The Wild Unfeeling World
Casey Jay Andrews
Lion House Theatre
Pleasance Courtyard
–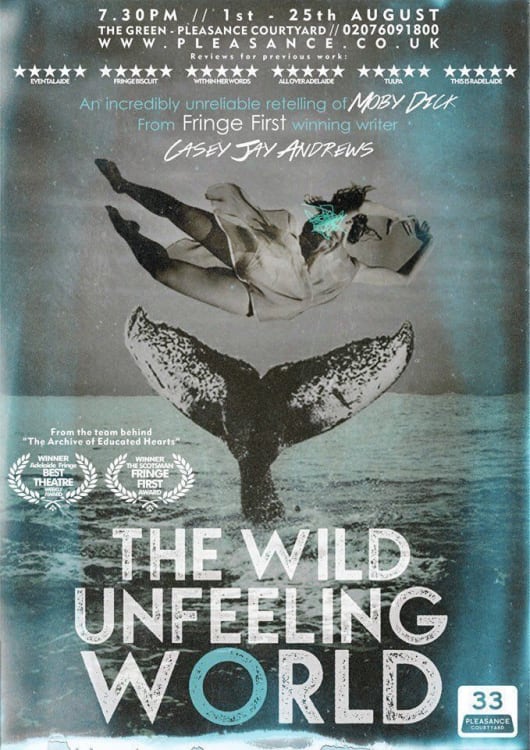 In his opus of American literature, Herman Melville wrote, "many are the men, small and great, old and new, landsmen and seamen, who have at large or in little, written of the whale."
Despite the lack of recognition his book received during his lifetime, in the century and a half or so since Moby Dick's publication, it has become one of the most widely read and cherished books of all time. A treatise not only on the nature of obsession, vengeance and malice, but on the smallness of humanity when faced with the greatness of the world in all its majesty. It's a story that has had all manner of interpretations fastened to it and as such is ripe to be used itself as the basis for other tales. Many are the men and women who have written about it, but few capture the beauty and majesty of it quite so keenly.
The Wild Unfeeling World is a companion piece and compliment to Lion House's other running performance, the sublimely emotional and personal, if no less intimate, Archive of Educated Hearts. It's a reimagining of the classic tale, as retold in classic Lion House tradition, in the form of a wistful fable of a journey, brimming with the clashing whimsy of Andrews's prose with an idealised but dreamlike modern-day reality.
In this tale, Ahab is a vengeful cat, crippled by the wheel of a white Renault Clio, and all his hatred set upon the driver of that cursed vehicle. On the other side of London, we find that driver, recently mugged and evicted from her flat and with her worldly possessions inside that now broken-down white car. But rather than succumb utterly to despair, she sets out on a journey to the opposite side of the city, little knowing that she is heading directly for Ahab and many strange meetings along the way.
What leads from there is the signature magical modern fairytale joy that has become the signature of the company as Casey Jay Andrews darts around the bijou set with tiny props, spinning the tale with the encouraging gravitas of a master storyteller, leading the tale through a lyrically meandering journey through London, and on an emotional rollercoaster which belies the depth of sentiment that underpins the tale. This might seem on the surface like the tale of a ship full of vindictive cats and a young woman on jaunt through doldrums, but beneath it, is the very human story of someone suffering from their life falling apart and finding comfort and hope in unexpected places.
I don't believe The Wild Unfeeling World is trying to be Moby Dick, it's not trying to match or usurp the awesome scope or brilliance of Melville's work. It's doing something smaller, kinder and more relatable and in doing so brings a ray of hope to a world that feels all too much at times.
Reviewer: Graeme Strachan