The Wind in the Willows
Directed and choreographed by Will Tuckett
Royal Opera House
Duchess Theatre
–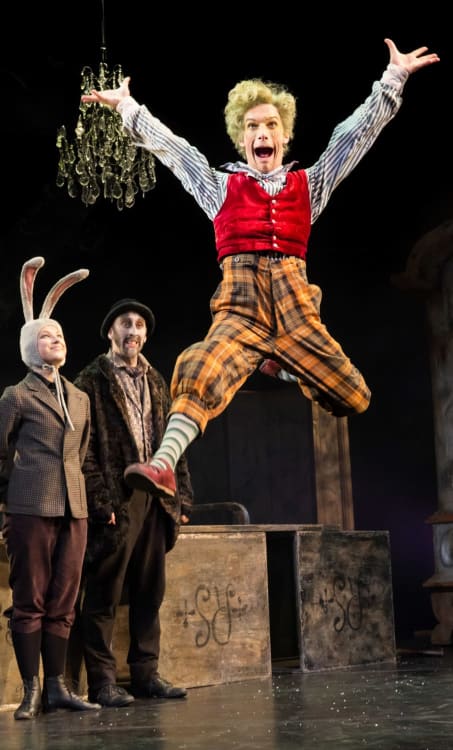 A perfect pantomime alternative, Will Tuckett's Wind in the Willows provides light-hearted festive fun.
The tale is narrated by Tony Robinson and Martin Ward's Butterworth-inspired score is saccharinely sweet, yet a wonderful, cheeky humour animates this eminently English work of dance theatre.
Keeping the flowing, florid language style of Kenneth Grahame's original tale, we are introduced to the riverbank characters. Mole (Clemmie Sveaas) rolls out of a rug and, with a red-tinged nose, is adorably shy. Tuckett's choreographic style is hardly groundbreaking, but it's his added fine character details which makes this work so endearing.
The animals play on a set littered with giant household furniture form which blue blankets are pulled to ripple as the river, a chair upturned becomes toads prison, and the cast nip in and out of a giant wardrobe hidey hole.
Costumes (Nicky Gillibrand) are based on an English sporting look, lots of tweed, waistcoats and brown lace-ups. Atop of these are beanie hats with knitted ducks wobbling, grey bunny ears and a whole rowing boat fixed around Ratty's waist.
The only break from the English gentry attire arrives with the weasels, who are John Travolta-esque punks. Black quiffs quivering, strutting their fancy footwork, the weasels sneer at the established nobility, stealing Toad Hall. Alongside the punks are puppeteers wielding 2-foot long, sinewy, furry weasels.
Every single person onstage is so perfect for their role, it feels as if the piece had been choreographed with them in mind. Toad's (Cris Penfold) boundless energy means he leaps and zooms around, terrifying with his motorcar and bounding over his friends. Topped off with manic grins and wide-eyed excitement, Grahame's Toad character has leapt out of the book into reality with Tuckett's choreography.
Ratty (Will Kemp) is a suave, debonair gent with a twitching nose and a fondness for expansive sniffs whilst Badger (Christopher Akrill) is the brain behind the operation.
It's the fourth run of this ballet since its creation for the opening of the Linbury stage at the Royal Opera House. It now marks another new era as the first ever ROH transfer to the West End, now playing at the Duchess Theatre.
This popular number had adults and children melting alike. The riverbank creatures so brilliantly brought to life, coupled with a smattering of interval snow, certainly warms your heart for Christmas.
Reviewer: Louise Lewis