The Wind in the Willows
Kenneth Grahame, book by Julian Fellowes, music & lyrics by George Stiles & Anthony Drewe
Jamie Hendry, MJE Productions, Josh Gilinski in association with Theatre Royal, Plymouth
The Lowry, Salford
–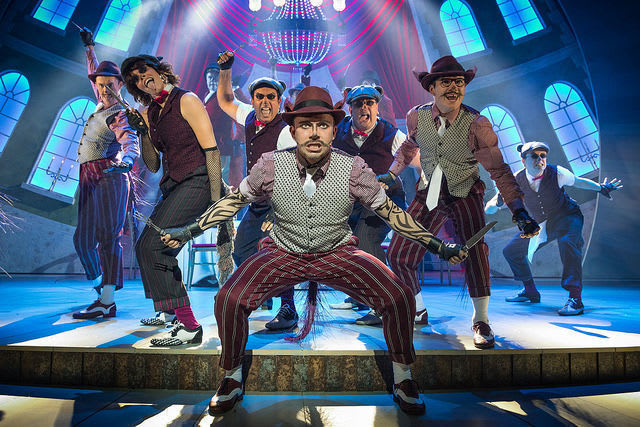 The Midas touch that Julian Fellowes, George Stiles and Anthony Drewe brought to the stage musical Mary Poppins adds the same golden lustre to their brand new musical adaptation of another cherished children's story.
The Wind in the Willows is a faithful and first-class rendition, by Downton Abbey creator Fellowes, of Kenneth Grahame's original story, given some sharp and contemporary music and lyrics by Stiles and Drewe. It's been a while since anything so bold and beguiling as this musical has been seen hereabouts.
The story is not as easily immersive, nor will it be as instantly familiar to a younger generation of theatregoers, as that of Ms Poppins. There's an emotional and entangled Victorian ambiguity to Grahame's riverside characters wrapped around the theme of enduring friendship. But Rufus Hound, as Toad, delivers a performance of simply virtuoso clowning.
It's a talent for physical comedy he's honed in One Man, Two Guvnors, or more especially as Sancho Panza in Don Quixote at the RSC earlier this year. Here he's at the head of a terrific cast, in a production that shimmers with talent.
Manchester Theatre Award winner David Birrell (Badger), Fra Fee (Mole), Thomas Howes (Rat), Sophia Nomvete (Mrs Otter) and Neil McDermott (Chief Weasel) bring diverse characters to entertaining life. The latter is especially sharp at the heart of Aletta Collins's smart choreography.
With such an impressive songbook, of 20 new compositions, it's almost too much of a good thing and the first act might benefit from some trimming. You would not want to be the person who decides whether one or two songs could go altogether, but certainly no-one should touch the delightful between-scenes hymns from swallows, mice, or hedgehogs. Especially the hedgehogs!
The appeal to younger audiences will depend on just how sophisticated, or stagestruck, they may be. If it's the latter, then start saving for stage school now! This is the kind of show that will only widen those stars in their eyes...
It runs here until November 6, on its way towards London and certain acclaim.
Reviewer: David Upton