The Wind in the Willows
Adapted by Ant Stones from the book by Kenneth Graham
Guildford Shakespeare Company
Watts Gallery Gardens and Woodland near Guildford
–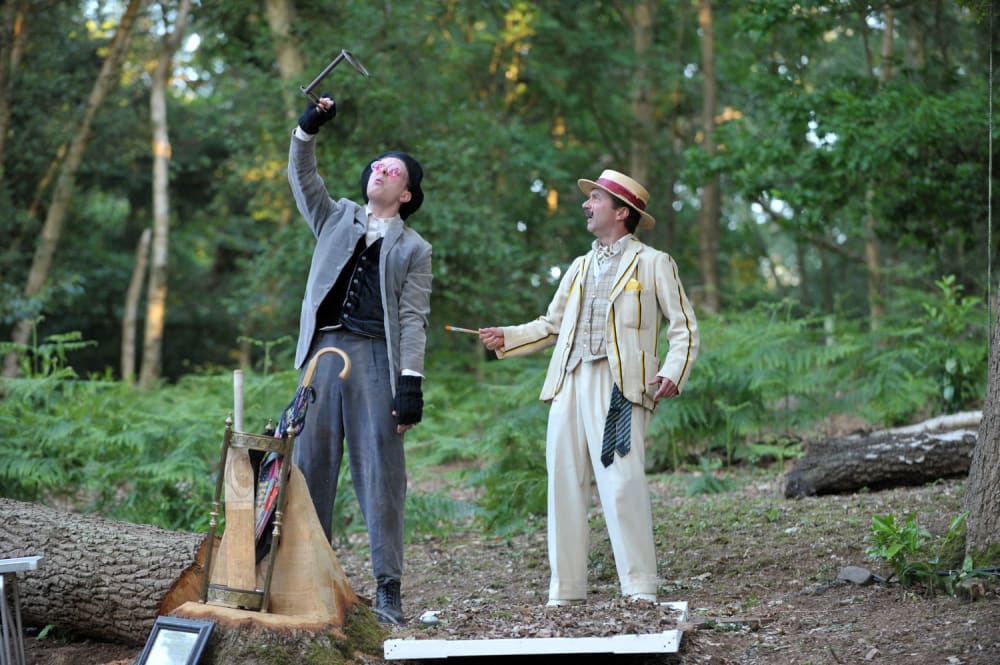 The Met Office had sent out 'Yellow Warnings' for the evening, heavy thunderstorms expected but, intrepid theatregoers that we are we ignored them and are so glad we did. True there was a smattering of rain, but at that point we were visiting Badger in the middle of the Wild Wood, shielded by the trees and not a Weasel in sight.
As always this innovative and enthusiastic company has some surprises in store.
A Canary Yellow Caravan is flipped up from the stage, and disappears just as quickly when it lands in a ditch. Otter pops up from the river to the sound of bubbling water, sound effects throughout so well thought-out and executed (Matt Eaton) that I felt I could even smell the river, and at Badger's home we heard the sound of three (or was it four?) very strong bolts locking the door, keeping the occupants safe. Sound is constant and a very important part of this production—also occasionally made by the players themselves.
Very quick changes are the order of the day as the seven actors all play multiple characters, with animal costumes to complicate the arrangement, but it is a surprise to first meet Mole and Ratty in human form sitting painting by the river. Human form maybe, but totally in character with Christopher York's Mole quiet, self-effacing and eager to please and Richard Emerson's Rat confident and stylish in boater and blazer.
There is not a lot of action in the first part of the story, but it is not long before we meet Mr Toad—Matt Pinches enjoying himself (and entertaining us) with this larger-than-life annoying, yet loveable character.
Toad goes overboard (sometimes literally) with obsessions, soon discarded in favour of the newest craze. First it was boating, then caravanning, and at this point motor cars are uppermost in his mind. When we return from our trek to the Wild Woods, we find him in the process of accidentally stealing a car and driving off in it.
The action is fast and non-stop from this point with Toad's arrest, imprisonment and escape, followed by The Chase as he tries to get home before the police catch him.
Toad Hall however has been taken over by the Weasel Army and the resultant takeover bid by the friends takes place to the music of Ravel's Bolero, very slow, very deliberate, very cleverly arranged, and Toad 'helps' by getting tangled up in the huge tablecloth, before claiming it was he who won Toad Hall back.
As always, the cast rise to the occasion and provide fun and excitement, sometimes adding their own pertinent comments. Sarah Gobran is a very snooty Fox clad in Hunting Pink, and also manages Duck, Shrew, and the Jailer's daughter. Stoat, Goose and Barge Woman belong to Rob Whitcomb. Johanne Murdock as Otter is upset because she has lost her baby, Portly, but she is also a very domineering Chief Weasel and Sergeant, with the remaining three having the luxury of only two characters each.
Portly is finally reunited with his mother and the show ends happily with song and dance until Toad spots something in the sky—but that's another story.
Reviewer: Sheila Connor