The Wind in the Willows
Adapted from the Kenneth Grahame novel by Mike Kenny
York Theatre Royal
York Theatre Royal
–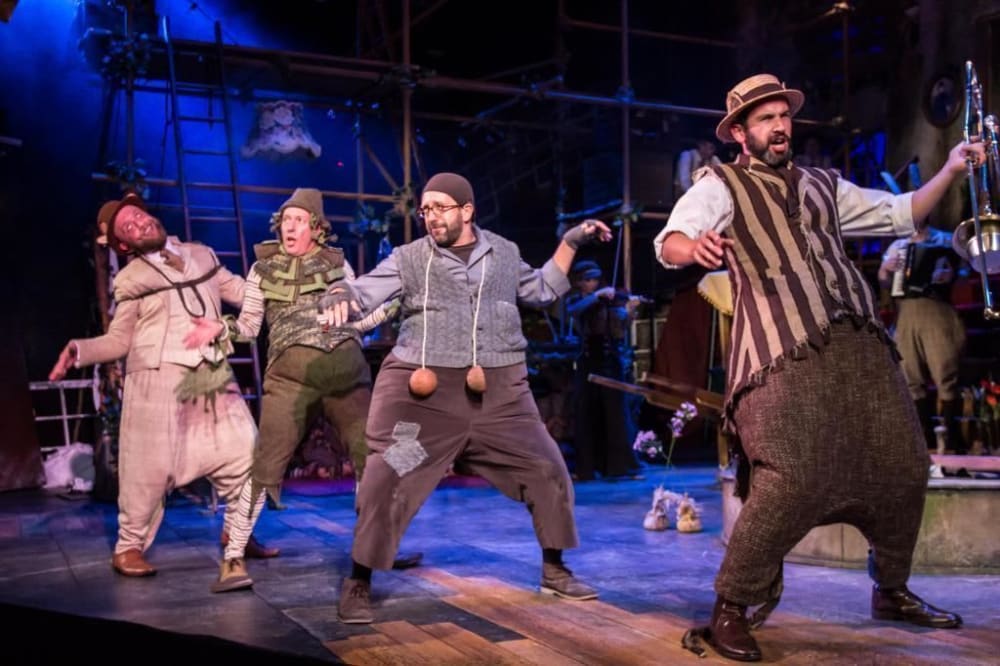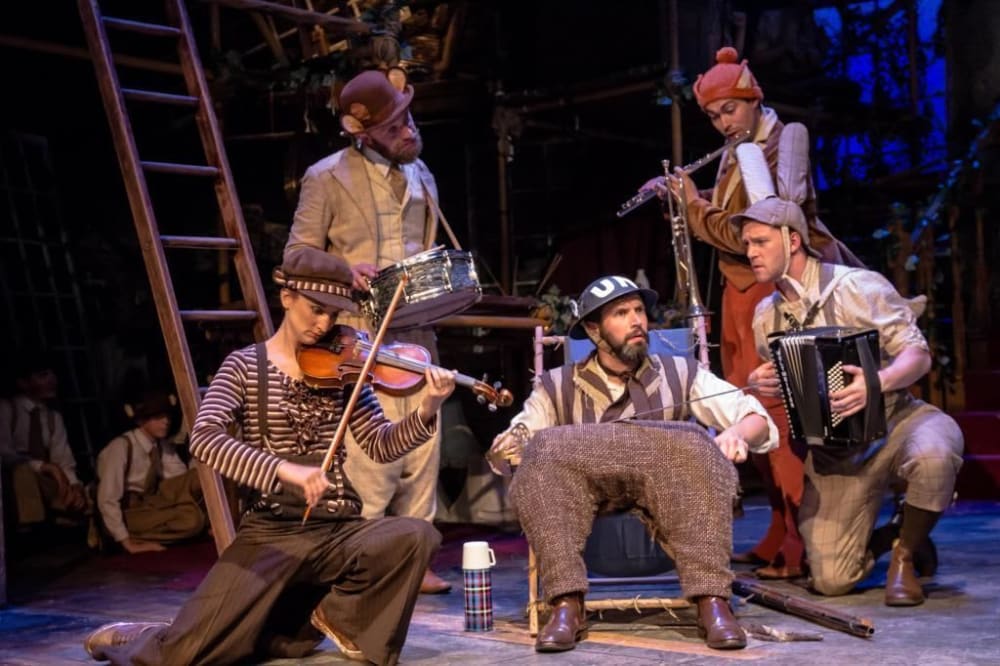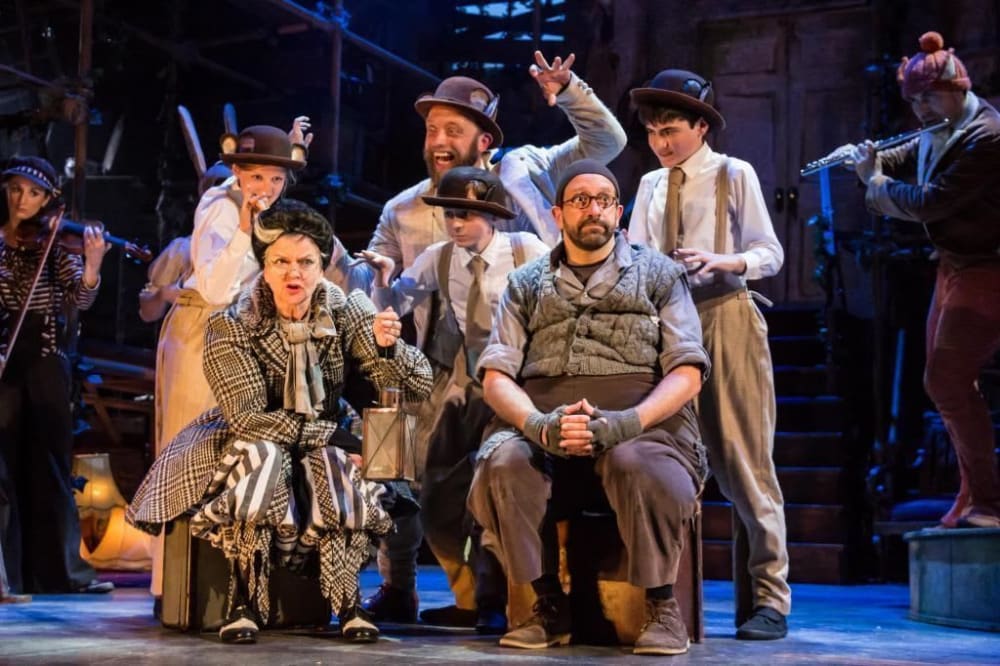 As the York Theatre Royal looks forward to an exciting and busy autumn/spring season before going dark for nine months of renovations, the summer season brings another big-budget family show lovingly crafted by the in-house team.
This time we have a remounting of one of the most successful such shows of recent years, The Wind in the Willows, and much will be familiar to those who saw the earlier, 2010 incarnation.
First, though, the differences. The earlier production formed part of the mixed but mostly laudable in-the-round season, which saw Artistic Director Damian Cruden experimenting with an alternative configuration for the main house. Here, the more familiar end-on set-up is restored, but again the auditorium and front of house have been atmospherically decorated.
Furthermore, theatre-goers who arrive early can spend time exploring an immaculately decorated backstage world, hearing tales from the riverbank, and interacting with performers and other visitors on the stage itself. It's a well-realised and enchanting touch, and well worth arriving early to investigate.
Once the performance begins, there are a few substitutions amongst the cast since the earlier production. Jacky Naylor's Mrs Badger seems almost to be channelling Helena Bonham Carter, in costume if not eccentricity. Robin Simpson is another newcomer to the cast, a wonderful and innocent Mole who triggers the whole sequence of events by ditching his spring cleaning and heading out to explore.
Simpson teams up winningly with the returning, and ever-splendid, Jonathan Race as the gentlemanly but occasionally irascible Ratty. Also reprising their roles from the 2010 production are Michael Lambourne—who plays Chief Weasel and a number of finely distinguished, always comic cameos—and Martin Barrass as Mr Toad.
Barrass is, of course, familiar from Theatre Royal pantomimes since time immemorial, and here he brings some of the same combination of dead-pan comic timing and overblown diva-esque declarations.
The musical trio of Josh Sneesby, Deborah Hewitt and Richard Marx completes the central ensemble, but the cast is bolstered, again as common in recent summer shows, by a cast of youngsters playing supporting roles as woodland creatures.
Christopher Madin's music is imaginative, evocative, and ably played and sung by the cast. The set, too, creates a real sense of magic and wonder. Catherine Chapman's and Lydia Denno's design gives place to play, and the costumes aid the actors' physicalities to great effect.
The caricatured shapes of the woodland creatures are subtly evoked by, for instance, Ratty's trailing striped jacket which tapers into a tail, or Mole's round-rimmed glasses and accentuated stomach and hindquarters. When the latter doubles over in anguish at one point, he is a perfect blend of human, animal and cartoon, and other performers too embrace the characteristics of their animal counterparts with subtlety and humour.
My reservations are the same as for the previous production. The meandering story is cannily bookended by the auction of Toad Hall, for which Michael Lambourne provides a witty and mischievous Master of Ceremonies. But the tales themselves feel disjointed, and despite Mike Kenny's sparkling adaptation, some children may feel there's not enough narrative to provide identifiable motivations or throughlines for the characters.
There are plentiful moments of magic, however, and for this the production is recommended. Richard G Jones's lighting design combines with the set's tall windows and nooks and crannies to moving effect, at one point creating a progression from bright spring dawn to looming woodland dusk in a matter of seconds, feeling neither rushed nor artificial. The hanging lampshades and strings of fairy lights also help to create some beautiful moments.
And when the riverbank friends combine to take back Toad Hall from the woodland invaders, a lengthy, joyous, chaotic sequence of swashbuckling, choreographed by Liam Evans-Ford and executed with vigour and humour by the cast, is almost worth the admission itself.
This is a set of tales, then, with mixed messages and a lack of clear purpose—but the production itself is witty, warm and at times joyful. As such, it's a lovely family show which may provide much for post-visit discussion, for audience members of all ages.
Reviewer: Mark Smith