The Wind Road Boys
Paul Flynn
Enter CIC
Spotlites @ The Merchants' Hall
–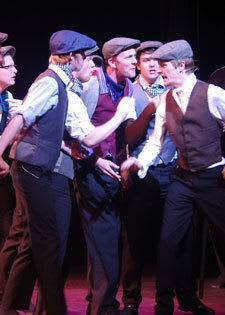 The Wind Road Boys is an ambitious new musical with a large cast ranging in ages from the very young to, well, much older. It's very much a community production and that is perfect for this musical about a mining community and the life they faced.
The story focuses on the humour, sadness and sense of loss experienced by many mining communities around the world.
It starts in 1994 with George in a miners' hospice about to die. He has written an autobiography and has a last letter that will change the lives of many of the characters forever.
George bought the run-down town of Langton in 1951 for one pound when the local authority withdrew all the public services.
With the demise of George, he has left his land to his son, the mogul owner of the supermarket giant Enormastore, who wants to demolish the town and built a massive store.
There is a feisty love interest between James and Helen who were sweethearts at university before they drifted apart.
She is very much an activist trying to stop the supermarket being constructed and George's grandson James is in charge of this tricky operation.
Much of this gripping tale is told in flashbacks where the ghostly figure of George has one night to save the disused mining town with an MC to help us.
At the core of this story are the mine workers, some as young as 7, and of course the wind road boys who opened and shut doors to let the gasses out and fresh air in.
In a most dramatic scene when a horrific explosions occurs, 27 boys and men and 17 ponies were killed that devastated the town.
The miners' plight, their strike action for compensation and the greed of the owners is powerfully presented.
What makes this musical rather special is the cast's passionate, committed determination to tell this story.
The music is compelling with rich, soaring, rousing chorus numbers to witty songs such as "You Can Beg a Favour off a neighbour" and strong solos.
The singing is impressive with some good harmony singing and enthusiastic, well-drilled choreography.
Archive film is used to good effect, but it was just a pity that the screen was not fully extended as we lost some of the action.
There were some opening night issues, but the enthusiasm of the company certainly outweighed them.
This is certainly a fine example of the Spirit of the Fringe and, once they settle into the venue, it can only get better.
Reviewer: Robin Strapp