The Winter's Tale

The Royal Ballet
Royal Opera House
–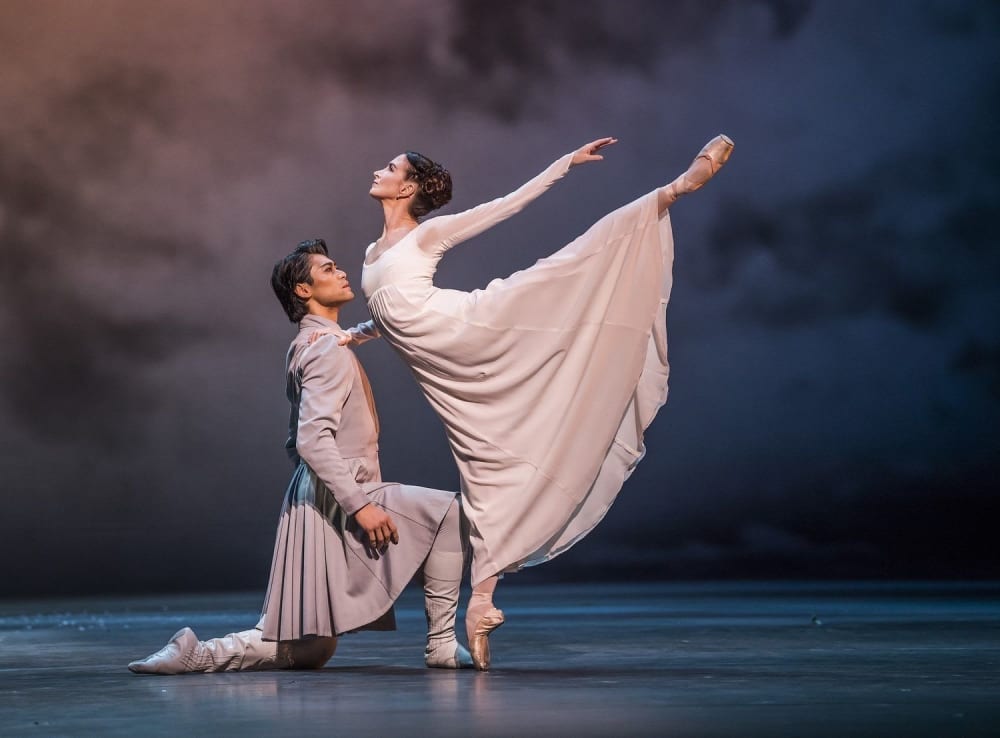 Following triumph in London, Toronto, New York and Brisbane, Artistic Associate of The Royal Ballet Christopher Wheeldon's modern ballet classic returns to the Royal Opera House stage for its third revival.
"Considered either as a comedy or a romance", Shakespeare's five-act play The Winter's Tale, co-produced with the National Ballet of Canada, is told in a prologue and three acts. Joby Talbot's narrative score, who provided the soundscape for Wheeldon's Alice's Adventures in Wonderland, is conducted by Alondra de la Parra, who made her Company debut during their 2017 Australia tour. Bob Crowley's designs are illuminated by Natasha Katz, with projections from Daniel Brodie and silk effects designer, masterful puppeteer Basil Twist.
Set in wintery Sicilia: the reunion of childhood friends Leontes, King of Sicilia and Polixenes, King of Bohemia, who is set to leave after a nine-month visit. Leontes' wife, Hermione, Queen of Sicilia and pregnant with her second child, wishes Polixenes to prolong his stay, provoking green-eyed Leontes to wrongly believe his wife, Hermione is having an affair with Polixenes and that her unborn child is not his. Enraged, he has Hermione imprisoned for adultery and treason and attacks Polixenes who escapes to Bohemia.
Leontes later shuns Hermione's newborn and orders noblewoman Paulina's husband Antigonus, mellowly portrayed by Principal Character Artist Bennet Gartside, to abandon the baby. The tragic array of events causes Leontes and Hermione's son Mamillius, Prince of Sicilia (Royal Ballet School Junior Associate Sasha Dobrynin-Lait), to fall ill and die and, witnessing her son's death, Hermione collapses dead. Sailing towards the shores of Bohemia in an almighty storm, Antigonus abandons the baby princess with the emerald once worn by her mother, before he is killed by a chillingly lifelike bear—an ingenious silk effect.
Replacing injured Edward Watson, Principal Ryoichi Hirano makes his UK debut as a destructive and moving Leontes. Talbot's meandering orchestration and slowing of tempo in act I enable Leontes to further convey his emotion through danceless gesture. First Soloist Matthew Ball is a charged and poetic Polixenes and Principal Lauren Cuthbertson's woeful Hermione, the role which she created, exhibits her expansive movement and effortless sweeping en cloche, later partnering Paulina, Principal Laura Morera in a female pas de deux.
Colourful Bohemia, fast-forward sixteen years and Perdita, since adopted by the shepherd community, has fallen in love with Polixenes' son, Florizel. Beneath Crowley's giant tree, Talbot's melodic folk section is performed by an onstage band, accompanying sunny-robed Principals Sarah Lamb and Vadim Muntagirov, who steps in for injured Steven McRae.
Coming together for the springtime festival, they are joined by Principal Character Artist Gary Avis and First Soloists, fearless duo Marcelino Sambé and Beatriz Stix-Brunell, in Wheeldon's rhapsodic and eye-catching formations. Frenzied by his son's engagement to a shepherdess, the celebratory gaiety ends, Polixenes sentences Perdita and her family to death and they all hastily take off by boat, Polixenes in tow.
Returning to Sicilia for the final act, Perdita and Florizel implore Leontes to give them his blessing, but angered Polixenes rejects this and frightfully turns to Perdita, exposing her emerald—Princess of Sicilia is alive. As the wedding festivities subside, Paulina takes Leontes to visit a new statue of Hermione, which suddenly comes to life—the family is reunited.
The Winter's Tale runs at the Royal Opera House until 21 March 2018, with a live cinema relay across the world on 28 February 2018.
Reviewer: Naomi Cockshutt