The Winter's Tale
Choreography by Christopher Wheeldon
The Royal Ballet
Royal Opera House
–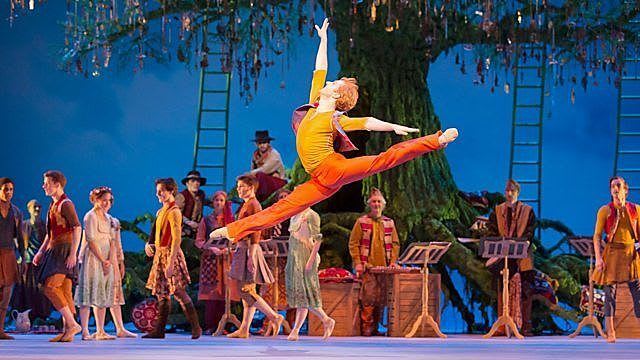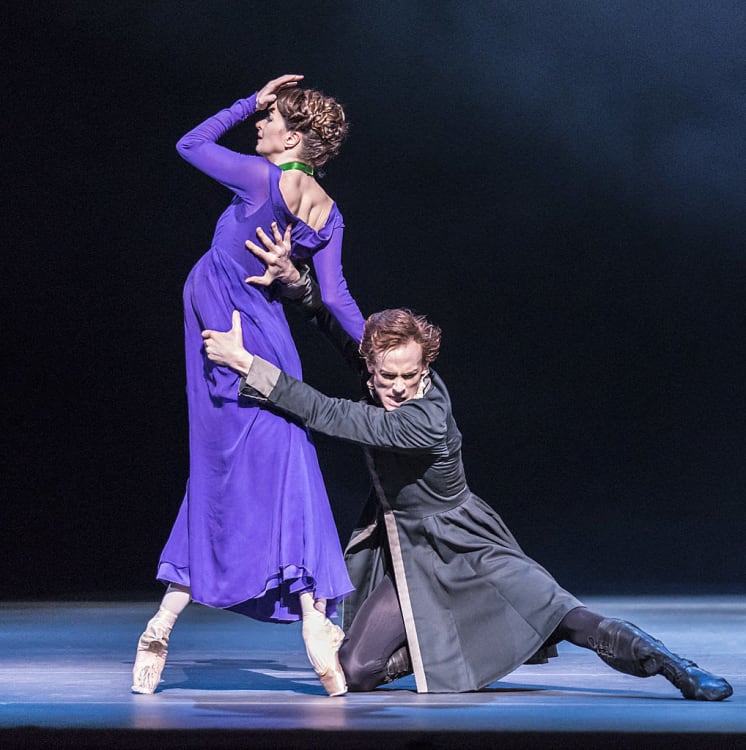 The Winter's Tale is one of Shakespeare's most difficult, morally complicated works, tearing up the dramatic unities rule book and incorporating both comedy and tragedy. It's not among his most popular or commonly performed plays, so it was a surprising choice by the Royal Ballet for a full-length main stage work. Since originally premièring in 2014, Christopher Wheeldon's adaptation has been screened live in cinemas and now broadcast online as part of the Royal Opera House's continued #OurHouseToYourHouse programme.
The production richly deserves the acclaim that it received in its first season—both for effectively conveying a complex plot, which relies on intangible concepts such as jealousy, truth and deception, and for getting to the emotional core of its characters. A brilliant example of this is the sculpture gallery sequence, in which the innocent reality of Hermione and Polixenes' interactions play out alongside Leontes' suspicions, thanks to rotating statues and clever chiaroscuro lighting from Natasha Katz.
Edward Watson's uniquely intense physicality is put to excellent use in the role of Leontes—his warped, convulsive movements demonstrate the progression of the king's jealousy like poison through his body. Lauren Cuthbertson—who most recently proved her exceptional acting skills in The Cellist—brings a dignified strength to the suffering Hermione, while the now retired Zenaida Yanowsky excels as the brave, tender-hearted Paulina.
Wheeldon and his creative team successfully distinguish the two worlds of the ballet to create two contrasting acts. Sicilia, Leontes' kingdom, is stark and monochromatic: plain, towering columns cast long shadows over the stage, the courtiers dance with graceful, measured movements and Bob Crowley's music is a discordant, dramatic soundtrack to the king's madness.
When the curtain rises on Bohemia, however, all is changed: dancers in a rainbow of colourful costumes perform energetic leaps, turns and dynamic port de bras before a stunning, emerald green tree centrepiece hung with charms. The music—partly performed live onstage—is upbeat, dominated by lush strings and rhythmic percussion. It's a festive, pastoral atmosphere, completely opposed to the funereal Sicilia and the perfect backdrop to the love story of Florizel (Steven McRae) and Perdita (Sarah Lamb). McRae and Lamb's natural chemistry sings as they perform the couple's free, joyful and romantic pas de deux, which feature some intricate and original lifts.
Act 3 sees a happy collision of the two worlds with the wedding of the young lovers, allowing the story of their quarrelling fathers to come full circle and old wounds to be healed. By assisting them, Leontes is redeemed and the emotional reunion of his family is realised, though their joy is overshadowed by the ballet's final moments; as Hermione's statue comes to life, Leontes reaches for the statue of his lost son, hoping in vain for one final miracle.
This ballet is a modern classic, with fantastic staging and clear storytelling, and—even if the notorious 'exit pursued by a bear' moment is both fleeting and disappointing—The Winter's Tale deserves to be recognised not just as an excellent ballet but as a quality adaptation of Shakespeare's tricky work.
Reviewer: Georgina Wells