The Winter's Tale
William Shakespeare
Shakespeare's Globe
Sam Wanamaker Playhouse
–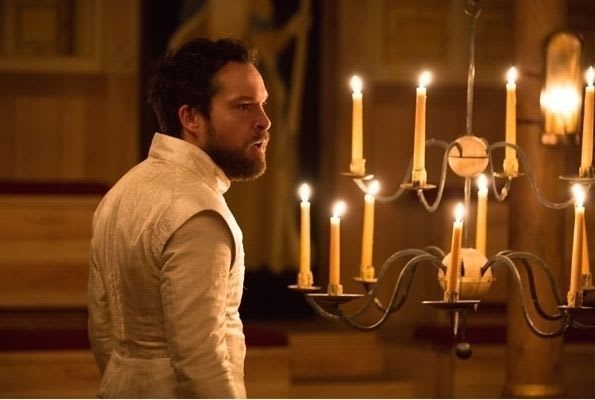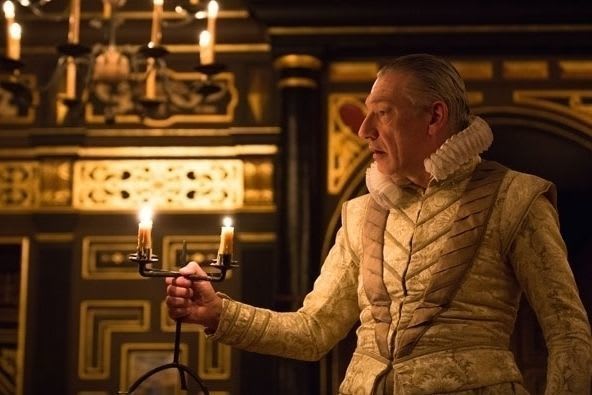 Hard on the heels of Kenneth Branagh's production of the Garrick comes this candlelit Globe production directed by Michael Longhurst at the Sam Wanamaker Playhouse. It is a simple, straightforward telling, clearly spoken, that almost makes you believe Shakespeare's fairy tale story of a jealous king who loses the queen he accuses of betraying him and their son and consigns his baby daughter to almost certain death.
The play may start in party mood and happy amity but it has scarce begun before King Leontes is covertly watching his wife with his best friend, the visiting Bohemian King Polixenes, convincing himself that his suspicions of their adultery have foundation.
John Light makes Leontes a man who is insecure but never questions his own judgement, who's always been possessively jealous. He can't bear seeing her treat another man so warmly, even when specifically at his request. His losses and his guilt bring change but he can still fare in a rage when courtly proprieties are breached and jealous and royal parents disobeyed.
Hermione, the Queen so wronged, is brought to trial. The happy, outgoing woman Rachael Stirling at first portrays is now shackled and dishevelled; her proud plea in her defence begins subdued. She is so shattered that you can believe that her collapse does leave her dying—though those that do not know the story will have a surprise coming.
The first half of the play is dark, but then, after a gap of 16 years, it's spring and life is happy, the abandoned baby grown into a lovely girl. It's Tia Bannon's delightful Perdita, courted by Steffan Donnelly's young Florizel, a disguised prince who thinks that she's a shepherd's daughter.
There's trouble brewing when Polixenes, his father (Simon Armstrong), finds out but until then it's party time sheep-sheering and a visit from James Garnon's loveable rogue Autolycus enlivened by the songs and a masque-like dance composed by Simon Slater; they are delightful, though the barely audible squeaks and scrapings he provides to accompany Leontes' rumbling jealousy I thought unneeded.
As so often, it is Hermione's attendant friend, the loyal Paulina, who one particularly remembers. Niamh Cusack is no exception but this is a strong cast throughout and, though running not much under three hours including interval, it never lags but seems to continually offer something different under the warm glow of its candles.
There are some particularly intriguing touches: in one scene alone for instance there is both the bear who disposes of Paulina's unfortunate husband, looming briefly through the dark night sea fog, and the teenage Perdita voices the baby cries of herself as infant.
Until her husband and daughter are brought to see Hermione, the theatre's gilded panels have been the setting, hung floral gardens a token addition to make the scene bucolic. Now candles surround her, she seems saint-like; an increase of luminosity for a happy ending that may well bring tears of joy.
Reviewer: Howard Loxton