The Wipers Times
Ian Hislop and Nick Newman
Trademark Touring and Watermill Production
Everyman, Cheltenham
–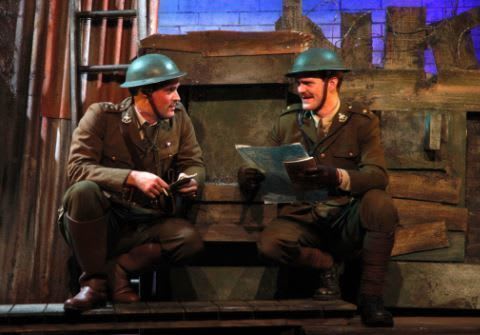 It was always going to be poignant, the day after Remembrance Sunday, seeing a different sort of heroism, in the chaps who turned the gas-gongs into gallows humour and an artillery bombardment into a bit of landscape gardening.
For two years from 1916, a division of the Sherwood Foresters produced 23 issues of The Wipers Times on captured printing presses for distribution in the trenches. It might instead have been called The Salient News, had Capt. Fred Roberts's witticism about their situation not proved a little above the heads of his men.
In fact there was to be nothing salient about the war at all, even while the horror of it was perfectly evident behind a paper curtain of satire. I loved for example the idea of the umbrella wire-cutter, to protect those in No Man's Land, and the parody of Kipling's If.
But it was the nature and the charm of The Wipers Times that much of its content came from ordinary soldiers, mostly execrable schoolboy humour, rather like a joker who takes pride in awful puns.
It's all very British—jolly japery from the trench at Ypres nicknamed Piccadilly Circus against those horrid Huns, fellows about whom we hear nothing except that they sing a song of hatred against our lot. (They were also the first to sing Christmas carols and "Lily Marlene"—but let that pass.)
An explosion that comes too close is "a bit friendly" and, as his men prepare to go over the top, James Dutton's Roberts comes up with a limerick about a young girl from the Somme.
The play was written by Ian Hislop and Nick Newman of Private Eye and, with its spoof columns and digs at the Daily Mail, it's hard not to hear Hislop's voice throughout.
The authors allow Capt. Roberts a few lines to admit the reality of what is going on. "We've moved ten yards in six months," he says. "Sideways," says Dan Mersh as his bristly sergeant. And in a rare spot of R&R Roberts defines war to his wife as "wallowing in a dirty ditch." We see no casualties, but back in the dug-out I kept mentally urging the lads to keep their heads down.
With its music hall numbers, taking words from the original publication, the piece is like Oh! What a Lovely War performed by those who really knew what was going on.
In this case, however, while there's pathos in weak humour, it doesn't always make great entertainment, however spiritedly performed. The point, it may be argued, is not that the jokes should be particularly funny, but that there should have been jokes at all.
So this would not much matter, except that The Wipers Times is not much of a play, depending for any dramatic tension entirely on a complete Blackadder-style one-dimensional twerp of a staff officer, played by Sam Ducane (who cannot be blamed), who disapproves of—well everything.
Reservations aside, however, it's an affectionate tribute to the resilience of these indomitable men, whose efforts to keep of their comrades' morale was quickly forgotten after the war. We remember them now.
Reviewer: Colin Davison