The Wipers Times
Ian Hislop and Nick Newman
A Trademark Touring and Watermill Theatre Production
Watermill Theatre Newbury
–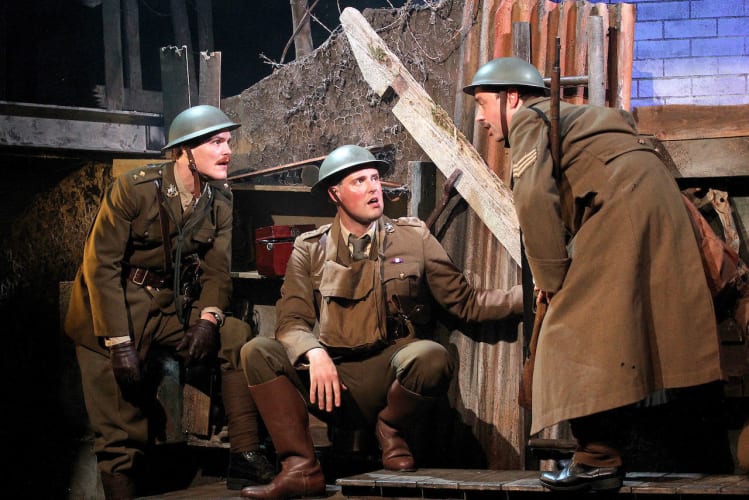 Ian Hislop and Nick Newman's splendid The Wipers Times is based on the true story of a satirical newspaper that was published during the First World War amidst the chaos and carnage of the Somme near the Belgium town of Ypres but mispronounced by the Tommies as "Wipers".
The idea to cheer up the troops at the front with a subversive and witty paper that poked wry fun at the British high command, the press and the dreadful situation facing the soldiers was first mooted over 15 years ago as Hislop was working on a documentary for Radio 4.
It was made into a highly successful 90-minute award-winning film by the BBC in 2014 but was originally destined to be a stage play and triumphantly reaches fruition at Newbury's Watermill Theatre.
When an old printing press is found in a bombed-out barn, it is quickly put to use to produce the paper, "something like Punch but with jokes," says Captain Fred Roberts, impressively played by James Dutton, who becomes the editor, ably assisted by Lieutenant Jack Pearson, a strong performance by George Kemp.
Luckily, Sergeant Tyler, stoically performed by Dan Tetsell, was a printer before the war so the first of 23 editions was published much to the angst of the officious Lieutenant Colonel Howfield (Sam Ducane) who believed that it had to be stopped despite it being a great hit with the troops who sent in many contributions and it also raised morale.
The play is told through poems, hilarious sketches and music hall songs by Nick Green with spoof adverts such as, "if you have trouble in finding a taxi cab to get you home, try ours—you will recognise them as they have red crosses on them." Most certainly gallows humour.
The futility of war is abundantly portrayed as the regiment is moved round the Western Front only to end up back where they started in Ypres. Both Roberts and Pearson were mentioned in dispatches and awarded the Military Cross for gallantry.
Eleanor Brown plays a seductive Madame Fifi as well as a multitude of female characters and there is excellent support from Kevin Brewer as Henderson, Peter Losasso as Dodd and Jake Morgan as Barnes.
Dora Schweitzer's atmospheric multi-level set perfectly captures the working conditions in the trench with a barbed wire fortification at the top. James Smith's lighting was spot on, creating the bombardment of the battles together with Steve Mayo's emotive soundscape.
Skilfully directed by Caroline Leslie, the courage displayed by the officers and soldiers despite gas attacks and horrendous hardship is vividly brought to the stage and the prolonged enthusiastic applause on press night was richly deserved.
Reviewer: Robin Strapp