The Wish House
Nobby Dimon
North Country Theatre
The Georgian Theatre Royal, Richmond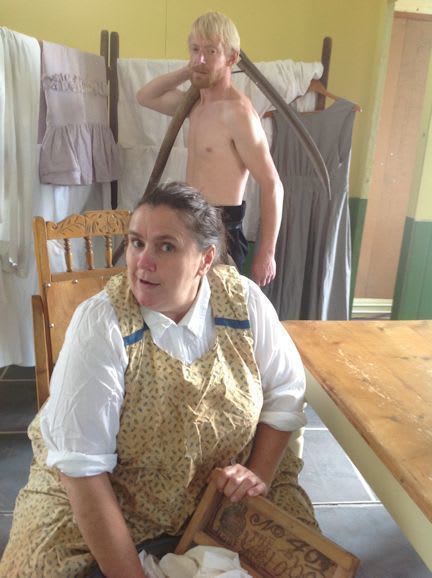 North Country Theatre is celebrating its 20th anniversary with a new piece of theatre written by artistic director Nobby Dimon who has borrowed a Rudyard Kipling short story called The Wish House and adapted it for the stage.
The well-thought-out set is a beautifully made 1920s scullery with an old poss tub, a traditional pulley clothes-airer and a proper pine table along with all the accoutrements of the day; someone did a great job searching all this stuff out. Attention to detail is spot on and I must credit scenic artist Simon Pell for an amazing slate floor and Vivienne Garnett for her scene painting skills.
Alice Lawson's costumes are also pretty awesome; I especially liked Sophy's pink dress and Grace's cross-over pinny, which reminded me instantly of my gran. There are also three digitally printed cloths, one depicting a lovely pastoral scene of the village where Grace lives, which are hung cleverly on the pulley clothes-airer and really add a bit of extra atmosphere to the piece.
The main character is a charismatic second generation gypsy called Grace who is getting on in years. She has a bad leg and that's the only plot clue I'm giving you; she takes in washing, could talk the hind leg off a donkey and sings terribly. Ashley Christmas—and yes, that is her real name—who plays Grace is a jolly good actress—she needs to be too, as she's on stage for most of the show. She is ably assisted by Mark Cronfield, who plays her love interest Harry Mockler and the Reverend Smith, and by actress/director Vivienne Garnett as Nurse Fettley, Polly Batten and Sophy.
Now, reader, I can feel you've wandered off thinking that "Wish House" is a euphemism for "Wash House" and, yes, I initially fell into that mind-set too; but it isn't, so come back and I'll explain.
Not wanting to give the plot away, first I must congratulate Dimon, the original author of the stage version of The 39 Steps, for his imagination. He obviously has a nose for a good story and who better to inspire him than the great Just So Stories writer, Rudyard Kipling? And I have to say that if you squint your eyes at Kipling's mug shot in the programme, he does look a little like Mr Dimon!
The central plot idea is vaguely similar to the old wives' cure for warts, which basically runs something like this: you find someone who is prepared to buy the wart, you sell it to them and Bob's your uncle, it's gone; but whoever bought the little wrinkly thing gets the 'joy' of wearing it or perhaps even selling it on.
The slight problem with this production is that it spends too much time setting the scene, which involves a romance that isn't quite happening between the vicar and the district nurse who tends Grace's ulcerated leg, and Grace's past love interests, which, whilst interesting (she certainly had a colourful past), are a little over-written. The chunky bit of the plot doesn't get as much attention as it deserves and the front door of number 14 needs to be a bit more sinister.
There are plenty of laughs where Christmas shows off her impeccable comedy timing and Garnett's direction shows great promise. If Dimon could just take twenty minutes out of the first half and ten minutes from the second, or add a bit more pace to the piece, it would work even better.
The Wish House is about to set off on a huge tour of the North, finishing on 3 December at Reeth Memorial Hall in North Yorkshire, so I wish it the best of luck, warts and all.
Reviewer: Helen Brown