The Witches of Eastwick
James Dempsey and Dana P Rowe based on John Updike's novel
The Watermill Theatre Company
The Watermill Theatre Newbury
–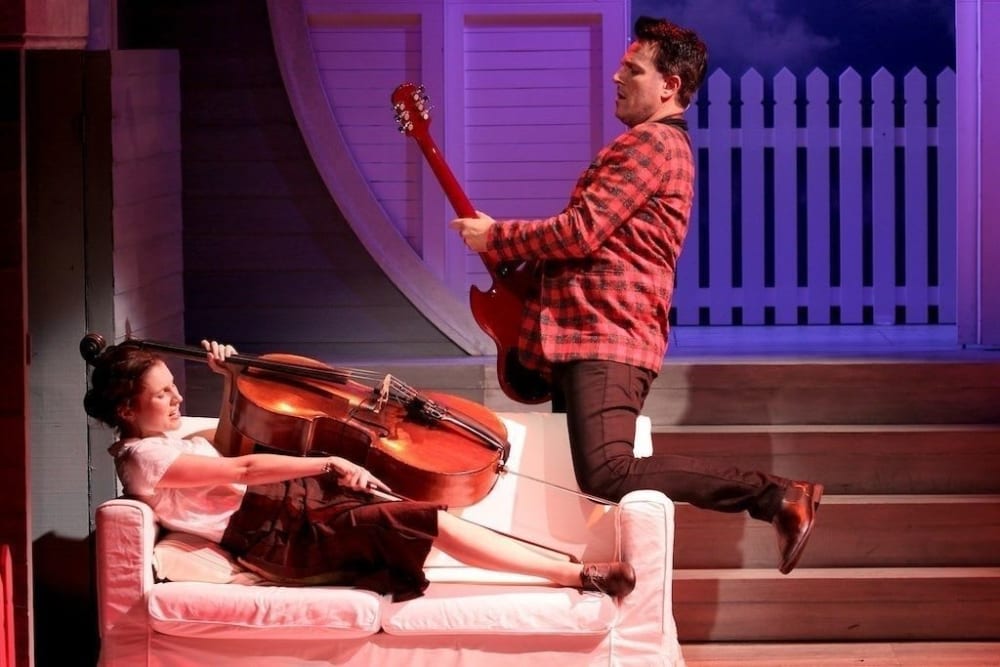 The Watermill Theatre's revival of The Witches of Eastwick, based on John Updike's novel with book by John Dempsey and music by Dana P Rowe, is simply superb.
Even the ponderous storm clouds lurking outside were in harmony with the howling wind and thunderclaps created in the theatre.
Inspirational director and choreographer Craig Revel Horwood has worked his magic in this high energy and highly impressive production. Moreover, he is blessed with a stellar talented cast that give their all.
The trademark actor/musician formula is used to great effect with the cast playing a plethora of instruments that create a true big band sound, and the singing is powerful and delightful.
Tom Roger's striking set recreates the white picket fences and clapboard houses of this sleepy New England town and many surprises.
Guarding the morals of Eastwick is the interfering "queen bee" Felicia Gabriel, excellently played by Rosemary Ashe, who embraces the comedy elements with relish. Jeffrey Harmer gives a strong cameo role as her long-suffering alcoholic husband Clyde.
But life in Eastwick is monotonously dull and boring with the occasional martini party bringing light relief, but all of this changes when Darryl Van Horne arrives in town and the lives of the townsfolk change forever.
Poppy Tierney is the feisty single mum and potter Alexandra. Joanna Hickman is the frustrated cello playing schoolteacher Jane and Tiffany Graves plays the embryonic newspaper reporter and poet Sukie.
All three give dynamic performances that are a joy to watch. Van Horne individually seduces them all. They are beguiled by his charm and sex appeal and learn some of his devilish spells as he releases the powers locked within them.
Alex Bourne exudes charisma as this audacious brazen devil incarnate, an outstanding performance.
But their newfound sexual freedom causes a scandal as the townsfolk meet to do their laundry and gossip about Van Horne's excesses in a hilarious number "Dirty Laundry."
Naomi Petersen and Ross William Wild bring a delightful love story as the teenagers Jennifer and Michael.
Dexter Galang is the splendid manservant Fidel with Greg Last as the Reverend Parsley and there is sterling support from Esther Biddle, CiCi Howells , Gavin Whitworth and Gary Mitchinson.
There is a glorious theatrical moment when the witches "fly" above the audience—it's a magical end to act one.
Events begin to spiral out of control as the Witches become more powerful and they "Dance with the Devil." But they turn against Van Horne when he goes too far and eventually they send him back to where he belongs in a dramatic ending.
This is a wonderfully wicked production that had the audience laughing out loud and thoroughly enjoying this suggestive, sassy production with a genuine warmth and enthusiastic applause.
The perfect summer fun and must surely have a transfer to London. Don't miss it.
Reviewer: Robin Strapp