The Wizard of Oz
Clare Allen
The Georgian Theatre Royal
The Georgian Theatre Royal, Richmond, North Yorkshire
–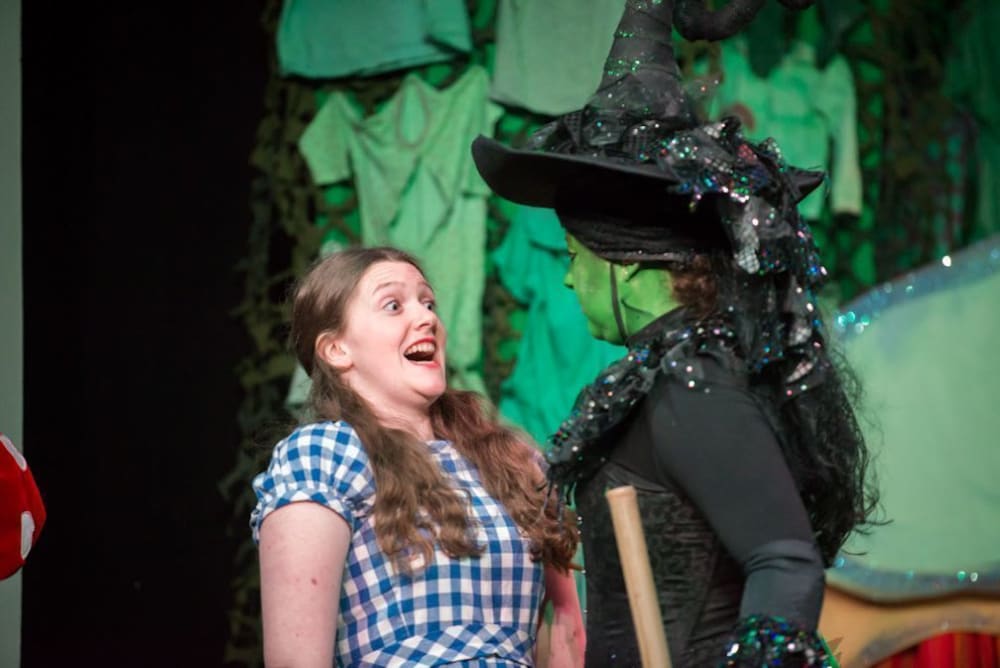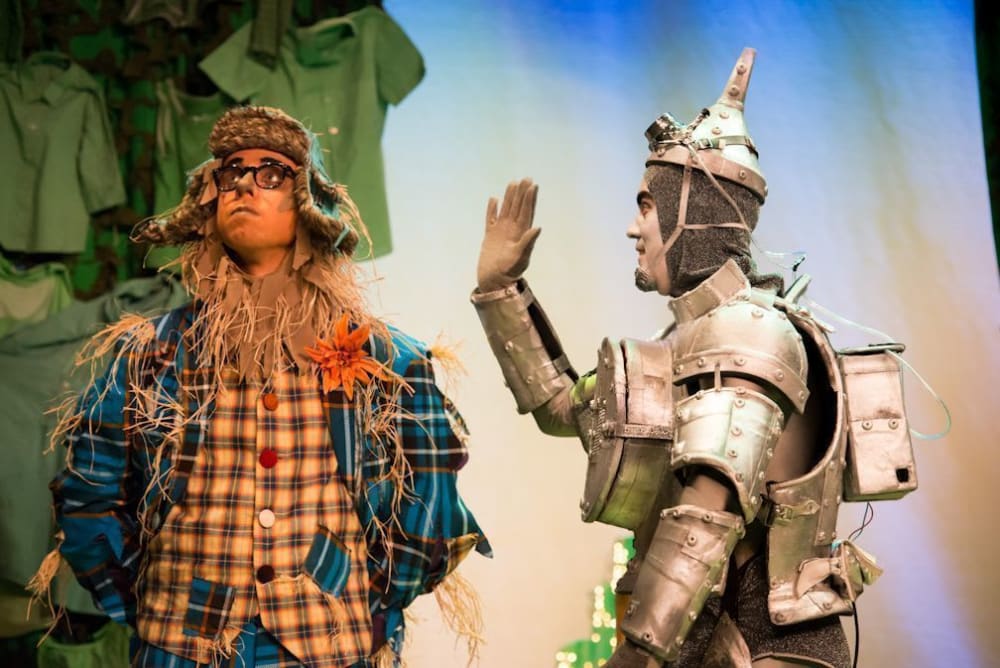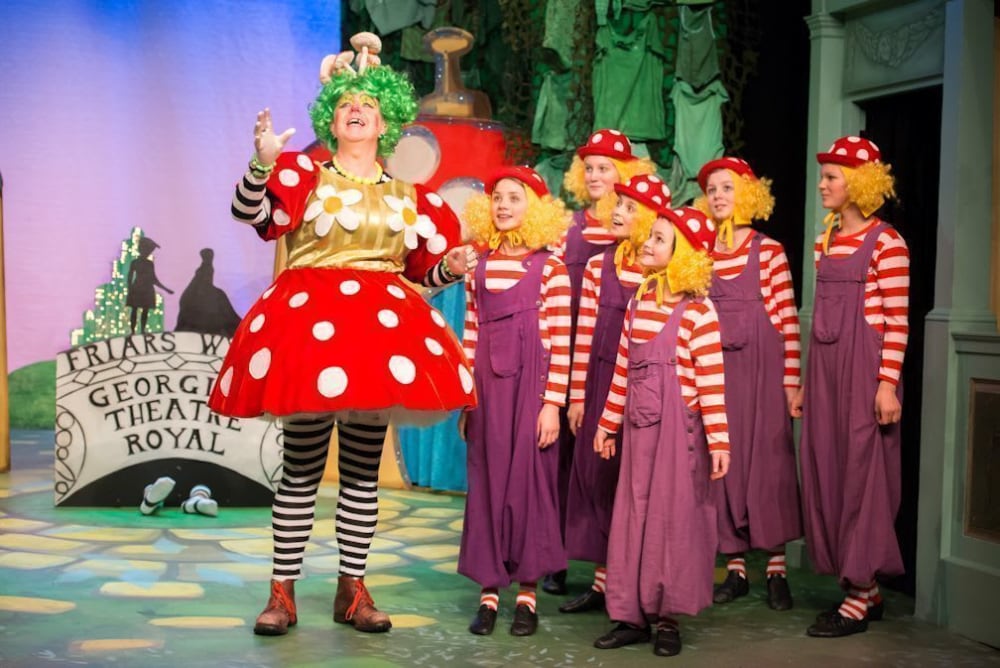 Taking my seat for The Georgian's much anticipated annual panto, I was surprised to see an empty stage looking forlorn as if awaiting the cleaning lady to come and do her thing. There were a couple of empty buckets and no sign of any set. Had they forgotten it was panto press night? In fact, was there going to be a panto at all?
The December temperature was hovering just above freezing outside; the wind was audibly building into quite a storm and the scaffolding on the property next door could be heard rattling.
A curtain dropped hiding most of the stage and a colourfully dressed chap comes on to read the day's weather report. "Severe weather," he announces apologetically, as if the weather would curtail proceedings.
A wee girl dressed in gingham runs across the stage with her little dog, losing her hat in the wind. A little fluffy dog runs back to retrieve her hat.
Oh so cleverly the storm is projected on the curtain in the style of an 80's B-movie. A twister appears and all sorts of everything flies through the air - watch out for the flying Mayor of Richmond, complete with his mayoral chains.
I was blown away at the originality of this little gem right from the word go. Writer and director, Clare Allen, who incidentally is also the chief executive and theatre manager, has boundless creativity and an impressive imagination. Her ideas, which often seem completely random, would be challenging to produce for a big-budget-all-star theatre; but here in a tiny intimate theatre, she makes everything and everyone work, with the added bonus that the whole cast appear to be enjoying every minute.
Star of the show is the indomitable Gary (Gako) Bridgens as Dame Glinda, the good witch. He's a gruff street theatre bloke from Barrow-in-Furness who has the impeccable comedy timing of a stand-up comedian. Not many people could carry off a fabulous tutu style fly agaric costume with such toadstool conviction; not mush room for improvement here with ad-libs flying in all directions!
Nick O'Connor's Elvis the lion is the best of the worst Elvis impressionists and his song In the Gateau is delicious and comes complete with cake and cherries. I loved Freya Mawhinney's Dorothy. She looks no more than an innocent twelve-year old with her ankle socks and those red suede shoes, yet her soaring voice takes us somewhere over the rainbow with great skill.
The empty headed scarecrow, or squarecrow as his friends call him, is the constantly fidgeting and rather endearing Edward Cole, a talented local lad who grew up in Barnard Castle. Ed trained at Drama Centre London and impressively achieved an MA in European Classic Acting.
Tin Man (Ross Dean) is worth his metal and is a canny actor too, as is Sarah Kearsley's not so wicked Alfalfa.
What is totally wicked and provides the 'aww' factor is Sarah Kearsley's rescue dog, Jackson - a dog with a rags to riches story all of his own. Jackson, the Cockapoo, was air-lifted out of a rather terrible situation the day before his first birthday and now, at the age of three, thanks to Sarah's expert training, he's performing his part of the heart-melting Toto like a professional, retrieving the scarecrow's leg and giving loads of high-fives, his tail constantly wagging.
Foxton's set design is genius; he's invoked a cyclone of a whole laundry full of washing and attached it to the curtains. His trumped up Wizard - a giant head atop a Wurlitzer organ- is almost presidentially inspired with talk of building walls to divide the land of Oz. I'm not quite sure why there was a huge hot-air balloon at the end, but I guess our actors have to get back from the Emerald City somehow.
Naomi Parker's costumes are a triumph of colour and there are so many of them that she must have spent many hours at her sewing machine.
The youngsters from the award-winning Georgian Youth Theatre provided the cute factor. They delivered their lines with great feeling and were fully involved in the plot as well as their usual step-perfect dance routines. Loved the line when one of them was asked what was going on. "It's The Wizard of Coz, of course," she announced. "Just coz it is."
Brilliant!
Kerrin Tatman's specialist musicianship was note perfect on cello, organ and accordion, a faultless accompaniment to a multi-disciplined, multi-talented Tunnock's Teacake eating Oz cast. 
Reviewer: Helen Brown