The Woods
David Mamet
Danielle Tarento
Southwark Playhouse
–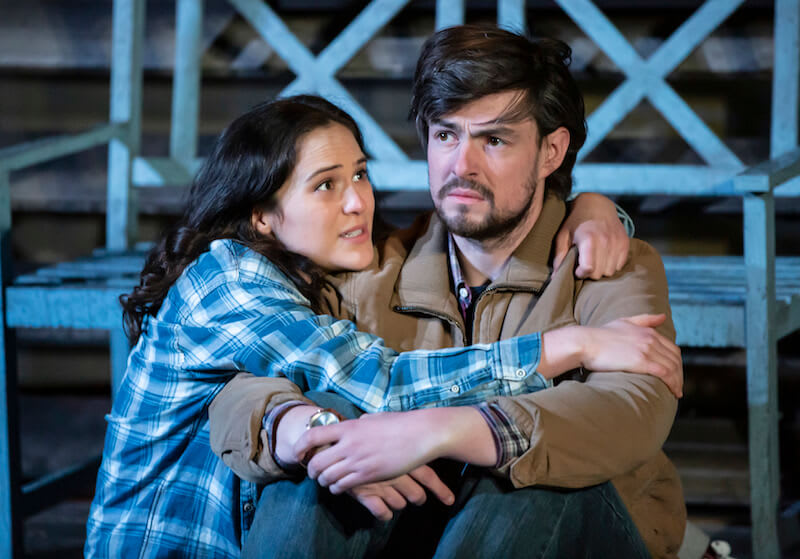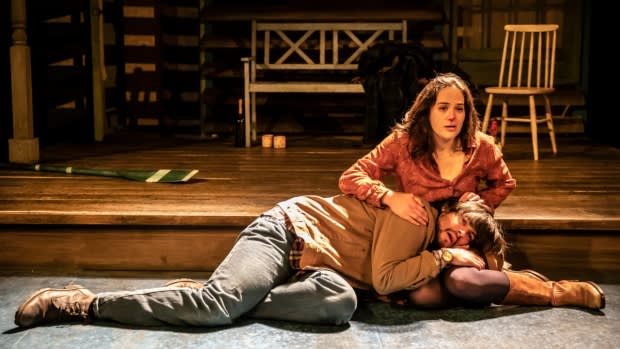 Not seen in London for over twenty years, David Mamet's 1977 play here gets a well-mounted revival directed by Russell Bolam. A "battle-of-the-sexes" two-hander that is very much of its time it is set on the porch of a clapboard cabin in the Michigan countryside where Nicholas has brought his girlfriend Ruth for a long weekend.
Why has Nick chosen this particular time to invite her to escape from Chicago together to his family's remote property? Is this a relationship on the rocks?
Ruth seems caught up in the romance of it all. She's prepared him a present to show her love and conviction. She is eager to get out into the woods and relishes the rain. He seems much less committed and seems afraid of the outdoors, haunted by dark memories that have their roots here, or is it just that he'd planned an escape devoted to bonking? He says he is finding it difficult to express what is going on in his head, but she never seems to stop talking.
At first, it is all close cuddles but soon it is clear how contentious this couple are. He says he can see a beaver, she says it is a log, there are no beavers in this territory.
Nick becomes exhausted, not sleeping, when he does he is dreaming: of a bear with a big erection advancing towards him, when awake he is drinking. "I know things you don't know," he tells her. I have to tell you something." But he never manages to say it. What begins as bickering becomes violent. Nick questions his sanity.
The Woods is a picture of pair who, like so many, choose incompatible partners. Mamet presents very stereotypical male and female roles (and female from a male point of view) and it is up to the actors to make them real individuals. Francesca Carpanini and Sam Frenchum take on that challenge but though they are eminently watchable they remain stuck in their two worlds and their own myths.
Anthony Lamble's realistic setting leaves out alternate planks of the clapboard which seems to suggest we are seeing inside things, but it is in the dark moments between scenes when Nick peers out into the darkness or Ruth flits by that director Russell Bolam captures the danger and menace that seem to lie in Mamet's myth-making and this toxic relationship.
This is pretty pessimistic portrait of a relationship but it produces two strong performances that are worth watching.
Reviewer: Howard Loxton