The Year I Was Born
Lola Arias
Southbank Centre and LIFT
Purcell Room at Queen Elizabeth Hall
–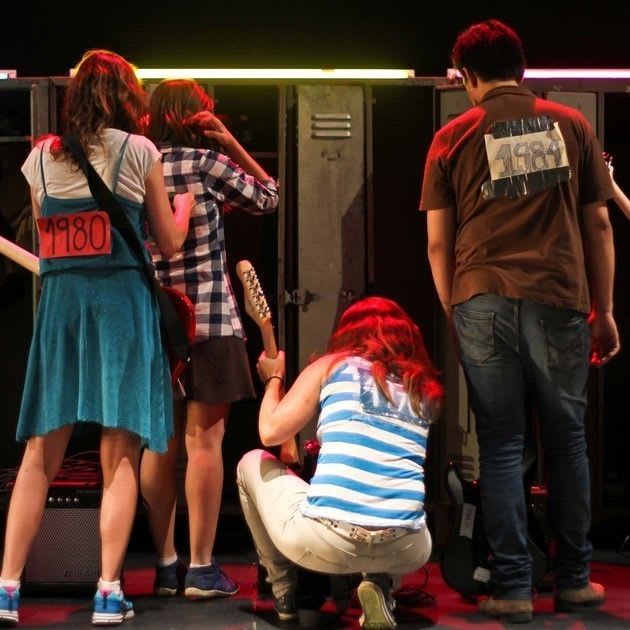 Writer and director Lola Arias has brought together a group of people who were born in the years of the Pinochet dictatorship from the putsch that established the Junta in September 1973 up to its end in 1990.
There are eleven of them. Each has been on a journey of discovery to find out what their parents' situations were, what happened to them in those years. Some were killed. Some were killers.
Some of these performers grew up abroad, others never left Chile. From police identity artist to feminist lesbian, each has an interesting story. Their parents may have been politically active, far-left opponents of the junta, while others were its supporters. One man's whose father is still alive would still think Pinochet right, but his mother was for Allende. As her daughter recreates it, one mother is shot down along with her comrades, other are accused of having a cushy time as refugees abroad.
Status between participants also becomes an issue. There is competition to be both richest and poorest. Even skin colour leads to a graduated line up; everything has impact on who and what we are.
At first, Arias uses speakers at microphones, a visual display projecting photographs and documents animated by the use of plastic figures and live marker pen annotation, gradually introducing first highly stylized and then more acted out performance that often says as much about these grown up children as about their parents.
It is fascinating to hear first hand of their discoveries of a time when thousands disappeared or were imprisoned or executed. Those of my generation with any left-wing leanings followed events with horror as right-wing forces, with US encouragement, sought to destabilise Salvador Allende's government, tanks surrounding the presidential palace, and then three months later a military led coup which saw planes bombing it, shortly followed by the announcement of Allende's death.
Most of us were disgusted at Margaret Thatcher's support of state murderer Pinochet. As we are here reminded, after his arrested here in 1998 he escaped back to Chile, supposedly too ill to stand trial, but though he left London in a wheelchair he was back on his own feet when he got off the plane in Chile.
This lively presentation treats its eleven individual stories with suitable seriousness, but it is also humour-laden and delivered with theatrical flair. Living documentary becomes entertaining as well as informative and, importantly, it is very moving, for, in the spectrum of experience and attitude it offers, the undermining impact of those years is always apparent and the thin veneer of reconciliation revealed as being delicate.
Reviewer: Howard Loxton