The Young
Devised by the company, written by Abi Hynes
Faro Productions
24:7 Theatre Festival at 2022NQ
–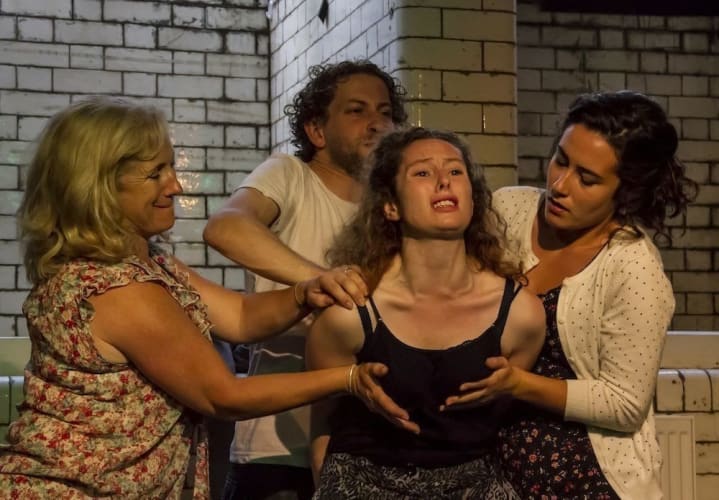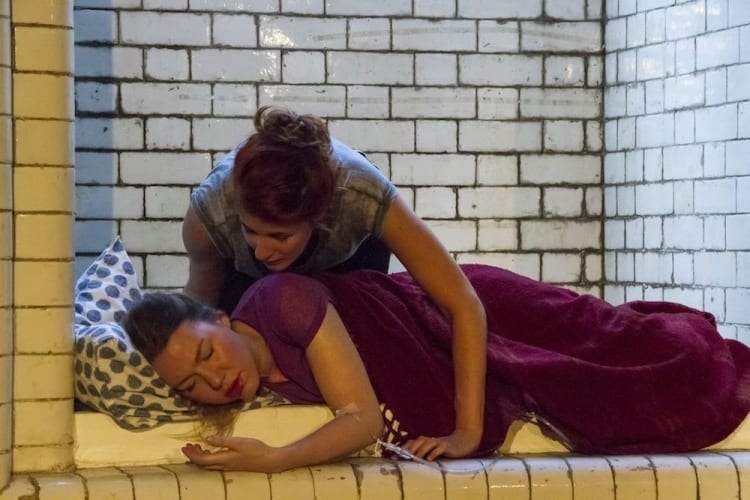 Even in its tenth year, 24:7 is constantly trying something new, and one of this year's innovations—which may seem curious to some in a festival of new writing—is a devised production.
One of the current trends in current non-vampire YA (young adult) novels is dystopian fiction, and so it makes sense for a play called The Young to dip into this world. This dystopia appears, by the news headlines occasionally thrown in, to be set now, but in an apparent utopia in which a miracle drug that cures cancer, heart disease and pretty much anything else as well as countering the effects of ageing is not only a reality but has been made compulsory for all UK citizens.
However there are whispers that some are suffering side effects including blackouts, referred to as "ghosting", that the government is hushing up. One of these people is Ruby, who is smuggled out of hospital by a group of people determined to stop taking the drug, hiding out together until their bodies are clear of it.
However Ruby, when she eventually regains consciousness, isn't at all convinced by their passionate convictions, whereas Cat has defied the rest of the group's wishes to keep their plans secret by turning their situation into a political campaign on her blog.
Although Faro Productions is working with a writer, devising is about collaboration between the actors and director to create the piece rather than starting with an authored script. This process takes much longer than rehearsing a scripted play, not just because the whole show has to be created as well as rehearsed but also because it takes time for even the most experienced devisers to move beyond the obvious, to let things happen rather than forcing them and to stop competing for attention in the scenes.
This production hasn't got beyond this stage, although it has all the trappings of devised theatre including large group scenes linked with abstract movement pieces (to original music by The Explorer's Collective and Jude Edwin-Scott). Despite being based on a pretty well-worn idea in science fiction, the worlds both inside and outside the room we see are both too vaguely drawn to be believable. The characters are thin, the dialogue is stilted, simple lines are delivered with rather too much passion and intensity and very little happens in most scenes.
It is only in the last ten minutes that a debate begins between the characters about whether to go back to the drug and perhaps live forever or grow old and die "naturally" together. Here we have some real conflict on which to base the drama, but even here the details of the drug and the science behind it and about the political regime from which they are hiding are so vague that it is difficult to really know—or care—what decision they should make.
In fact the audience is asked on the way out whether they would take the drug; I just smiled, as I still didn't know what it was or why I should have a strong opinion either way.
Reviewer: David Chadderton