Theatre Criticism: Changing Landscapes
Duška Radosavljević (ed)
Bloomsbury Methuen Drama
Released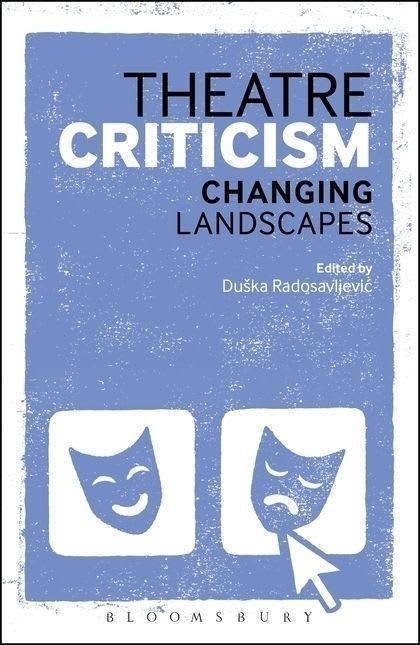 The changing landscape of theatre (and all) criticism—one that enabled the existence of British Theatre Guide—was brought about by the World Wide Web. The barriers to anyone expressing their opinions on anything, whether informed and intelligent or not, to a potentially world-wide audience have never been lower, if you can be heard amongst the crowd of other voices on web sites, blogs and social media.
This book is an attempt to look at the new world of theatre criticism from various different angles. While not really aimed at a general readership, the articles range from Mark Fisher's entertaining look at fictional representations of theatre critics—few of whom seem to like theatre at all, unlike most of the real ones I've met—to Diana Damian Martin's dense academic prose in "Criticism as a Political Event", which I struggled to understand at all.
The book is in four parts. Part I looks at criticism in various different countries including America, Latvia, Germany and Greece, setting the context in most cases with an explanation of the theatre practice in that country and looking at criticism from a particular angle. The last article by Andrew Haydon looks at England, and more specifically the development of online criticism—there is some information about the origins of BTG in this chapter.
Part II is perhaps the most accessible section with articles by working critics, including Fisher's article mentioned above, Mark Brown's attempt to locate modern criticism between journalism and art, Jill Dolan on feminist theatre criticism and Maddy Costa on the "embedded" critic and the debate over just how close critics should get to the creators and the creative processes of the art form about which they write.
Part III, titled "Changing Forms and Functions of Criticism", contains some attempts to formulate academic theories in relation to certain aspects of theatre criticism and its position within a greater discussion through comments threads and social media.
The final very short section is headed "Samples of Critical Practice" and includes an essay on thinking like a theatre critic, a review written in the form of a child's picture book and another written in emojis.
After more than two decades of online criticism, this reassessment of the critical landscape is timely if not overdue. This is the perfect source book for degree courses that cover theatre criticism either as a practical subject or as a subject for literary analysis that looks at the subject from several different perspectives to provide plenty of material for discussion and perhaps disagreement—and one I'll no doubt be using myself.
Reviewer: David Chadderton