Theatre Souk

Theatre Delicatessen, 3-4 Picton Place
(2010)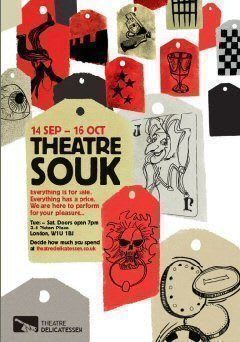 If George Osborne slashes public subsidy for the arts on 20 October - something most of us have now privately accepted as inevitable, I Value The Arts campaigns notwithstanding - then to survive, theatre will have to start behaving like any other commodity: subject to the same market forces as a falafel wrap or a wire sculpture.
Theatre Souk, then, is a glimpse of the near future. Eleven companies have pitched their stalls in Theatre Delicatessen's Picton Place building, there to vie like costermongers for consumers' attention and pocket change. Theatre Delicatessen aren't charging their tenants rent, so transactions are uncomplicated by overheads, processing fees or middlepeople: what you pay is, ipso facto, what the product is worth.
The experience calls to mind more than one kind of marketplace; the limited amount of time available, compared to the number of acts on offer, makes of us speculators as well as consumers. The set-up encourages judgement of artistic merit in terms of return on investment: is it better value for money to see as much as possible, spending recklessly but spreading your bets? or to invest conservatively in high-yield products like .dash's Chaika Casino, which can potentially provide a whole evening's entertainment for a one-off entry fee?
Your decision in this regard reveals something about your attitude towards money, and about the ways you judge the value of an artistic work; it's then up to the works themselves to challenge those attitudes and judgements. The Lab Collective tackle our demonisation of bankers in Matador, a one-man play that's simultaneously an apology and a shaming accusation. Flabbergast's Puppet Poker Pit is an amoral morality fable starring a violent, foul-mouthed puppet determined to renege on the ultimate poker debt.
Only HalfCut truly follow through on the potential of the Souk format by allowing customers to pay more for a more intense experience. It's at once playful and tense, asking penetrating questions about the commoditisation and value of people, their bodies and their comfort, while still clearly being all in good fun. But this marketplace's must-buy product is Natural Shocks' Between Life and Nowhere, a heartbreaking yet life-affirming aerial partner dance devised especially for the building's stairwell.
If Theatre Souk is a projection of theatre's likely future post-spending review, can George Osborne cut subsidies with a clear conscience, knowing theatre will survive commoditisation? Not quite. The Souk as a whole has an entry fee; fees for individual performances are a premium on top of that, an upgrade from a bland economy-class evening spent wandering the fee-free interstices to a business-class experience with in-flight entertainment. Whether it represents a failure of Theatre Delicatessen's experiment or a piece of veiled anti-cuts propaganda, Theatre Souk positions theatre firmly as a luxury commodity.
Until 16 October
Reviewer: Matt Boothman