The Bodies
Peter Flannery
Live Theatre, Newcastle
(2005)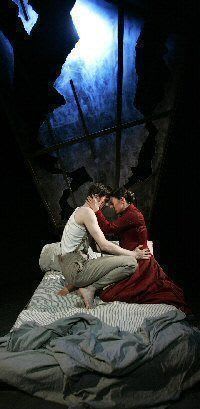 Peter Flannery's latest play (his first full-length theatre piece for many years) is a version of Zola's Thérèse Raquin, which he has moved from its nineteenth century Paris setting to nineteenth century Newcastle, although it could be any city with a river running through it: it is only the characters' accents which place it in Newcastle. In this way he emphasises the play's theme, the destructive power of human emotions.
It's not just lust and greed, either: Mrs Raquin's obsessive over-protectiveness for her son Camille is as much at the heart of the events of the play as the lust and greed which take centre-stage with the development of the relationship between Thérèse and Laurent. The inferior position of women, too, is a central feature of the tragedy: in spite of his genuine - if immature - love for Thérèse, Camille can still demand that she does as he says because he is her husband.
The story is simple: orphaned Thérèse is sent to live with her aunt, who is not even aware of her existence until she arrives, and her "mammy's boy" son Camille. He decides he is in love with her and they marry, a loveless marriage on her part, for she has little real choice in the matter. Into their lives comes one of Camille's workmates, self-styled painter and man-about-town Laurent, who becomes infatuated with her, invoking in her a hitherto unsuspected raw sexuality. They plan to murder Camille by drowning him in the river and, after an interval of a year (for thus they hope to avoid arousing the suspicions of the retired police inspector Michaud, the only close friend of Mrs Raquin), marry. And so they do: they stay with Mrs Raquin - at her insistence - but Thérèse is constantly visited by the ghost of Camille and the relationship deteriorates. Eventually she descends into nymphomania and madness and he becomes the greedy bully that was always in him. The tragic outcome is inevitable.
It is played out in a series of short scenes on designer Simon Daw's versatile set which makes excellent use of Live's small stage. We begin and end with Michaud who acts as a kind of chorus, setting the scene and commenting on the action. Colin MacLachlan, a Live stalwart, plays Michaud with appropriate gravitas. His is a subtle performance, suggesting rather than playing up the pain he experiences as he watches his friend Mrs Raquin - a beautiful performance by Anny Tobin - being destroyed in front of his eyes and he not able to do anything about it.
Craig Conway's Camille is also subtly presented. It would be so easy to portray him as a comic inadequate and, indeed, that is what he is at the beginning and we cannot help but laugh at the Laurent's barely disguised mockery of him when he paints his "portrait". As the play progresses, however, we do develop some sympathy for him, the innocent manipulated by his scheming "friend" and uncaring wife.
Laurent seems, to the innocent family, to be the epitome of sophistication but we, the audience, and Michaud see him for what he is but Ben Porter manages, just occasionally, to raise in us a little sympathy because of the strength of his feeling for Thérèse, but his real nature soon reasserts itself and we come despise him for his monumental selfishness.
Jill Halfpenny exchanges the glamour of Roxie Hart in Chicago for the not-quite-plain Thérèse. When she arrives in the Raquin household she is emotionally dead and it is only the arrival of Laurent that warms her, eventually culminating in manic prostitution towards the end, bullied by her new husband and tormented by her part in the murder of her first.
Flannery's new play, ably directed by Maggie Norris, shows the author of Our Friends in the North is back in the theatre with a bang. He takes us inside the heads and hearts of his characters and what we see there is bleak. But it is not unremitting doom and gloom: Flannery finds humour there, albeit of a somewhat black kind. A most welcome return!
"The Bodies" runs at Live Theatre until 30th July
Reviewer: Peter Lathan