The Bull
Directed by Michael Keegan-Dolan
Fabulous Beast Dance Theatre
Barbican Theatre
(2007)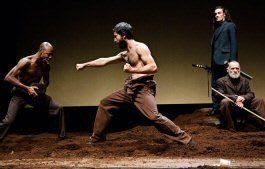 The invention, the versatility and the sheer energy of the Irish based Fabulous Beast Dance Theatre have made a big impression on their previous two visits to London. The company is a disparate group of dancers, actors and musicians from Eastern and Western Europe as well as Ireland. The artistic director is Michael Keegan-Dolan and his productions, which have included a radical reworking of Giselle, are notable for their savagery and black humour and are strongly recommended to anybody who enjoys physical theatre.
There is, in fact, far more theatre than dance in The Bull, which is based on a 12th century Irish myth of The Cattle-Raid of Cooley, which recounts a long and bitter battle between two families. The story has been updated to the 21st century. The characters include (and I quote) "runts, imbeciles, egomaniacs, masochistic deviants and impotent catamites," plus a counter tenor who sings from the very top of a high ladder and an actor who plays a dog. All the characters pale into insignificance when measured against the formidable, barbaric matriarch, played with battling-ram force by Olwen Fouere.
In The Flowerbed - Keegan-Dolan's modern take on a Romeo and Juliet feud over a lawn - hosepipes, garden shears and forks were put to murderous use in a bloody finale, which even a Jacobean audience might have found excessive. Here spades, axes, plastic bags, knitting-needle, golf clubs, and telephone leads are used to equally ferocious effect.
The stage is covered in peat. Apart from the brutal fighting, the grotesque murders, the explicit fornications and the full frontal nudity, there is also a relentless flow of obscene language, which may not appeal to traditional balletomanes. By the end of the show everybody on stage is dead, bar one person. "You can't kill me," he had cried earlier, "because I'm already f***ing dead!"
There are amusing send-ups of the Church and Michael Flatley's Riverdance. Colin Dunne plays a sexy star of a show called The Celtic Bitch, who apart from dancing also is expected to service the matriarch. There is a hilarious golfing sketch by Michael Dolan, which in times gone by would have toured the music halls and been one of its most popular acts.
The seemingly never-ending, exhausting, rhythmic finale with the whole cast, in a downpour of rain, bashing away at anything that comes to hand is exhilarating and leaves the audience on a high, eagerly awaiting Fabulous Beast's next production.
The company and Michael Keegan-Dolan are now a Barbican Artistic Associate.
Reviewer: Robert Tanitch