The Fence
Howard Barker
The Wrestling School
Mercury Theatre, Colchester, and touring
(2005)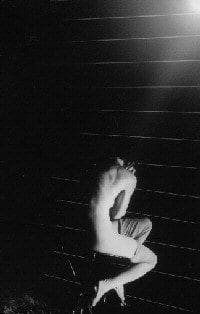 This, my first, experience of a Howard Barker play, has been a unique and absorbing challenge. Like Brecht, Barker is a playwright with a mission, and in The Wrestling School he, too, has formed around himself a company dedicated to the performance of his work. Like Brecht, he clearly seeks to 'alienate' the spectators, preventing them from forming any of the usual attachments and identifications to plot and character, but, unlike Brecht, he succeeds absolutely in this endeavour. Yet Barker's work eschews the merely political, the message, in favour of a theatre that dares to be without meaning.
This Wrestling School production, directed by Barker himself, contains acting of the highest order from an ensemble of players conscious of their every pose, gesture and intonation. The lines are delivered with a classical precision and intensity, and the use of movement and timing suggests a ballet without steps, where words, phrases and actions are stylised, deliberate and sometimes repetitive. The result is a sort of theatrical surrealism that defies every attempt at straightforward interpretation - except perhaps one that is obliquely psychological. There is no chronological narrative, no identifiable character development, no direct symbolism.
The Fence is evidently, though, an exploration of barriers and demarcations, taking as its focus what might be called an ultimately dysfunctional family: a mother, the Duchess (Victoria Wicks) three times widowed, now wooed and wed by Mr Doorway (Alan Cox), but still sexually involved with her 15 year old precociously gifted blind nephew Photo (Philip Cumbus) who actually turns out to be her son. She also has a nocturnal sexual life at the fence, where she presents her genitals to be entered through the wire by any of the 'thieves' who live on the other side. Photo doesn't know until near the end that he is her son, and his mother claims to be barren, posturing and parading in a series of supremely elegant, sometimes outrageous, costumes until finally revealed in her nakedness after giving birth.
The production offers a number of pleasures and challenges. Among the former are the sharp-edged vocal formality, the emotional intensity and the attention to detail that characterise the performances and the production in general. The real challenge to the audience is also one of attention. We find ourselves in a nightmare world as crystal clear as a Magritte painting, but one that eludes all our usual interpretive manoeuvres. What Barker seems to be striving for is a breakthrough to a new mode of theatre. As he intriguingly writes in the programme notes, "If the play has no message, the performance of it has a message for theatre itself."
J.D. Atkinson reviewed this production at the Theatre Royal, York.
Reviewer: Jill Sharp