The Flags
Bridget O'Connor
Royal Exchange Theatre, Manchester
(2007)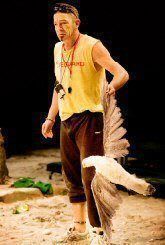 As the first of a pair of plays originally produced in the Studio to be transferred to the main house in its Out of the Blue season, the Royal Exchange presents The Flags by Bridget O'Connor, an Irish comedy that originally arrived in the post as an unsolicited script from the playwright.
JJ and Howie are lifeguards on one of the worst beaches in Ireland, strewn with litter, dead seagulls and a burnt-out car. They have applied for coveted lifeguard posts at Banna, but JJ must satisfy the eagle-eyed inspection—and the older, unmarried sister—of their boss Brendan. When an unknown girl talks to Howie about her fiancé who went to America and then walks into the sea in her wedding dress, the boys have to put their dubious life-saving skills to the test for the first time.
The Royal Exchange has discovered a very funny script that only occasionally flags (if you'll pardon the pun) in pace and humour and has assembled a perfect cast to put across these quirky but very well-drawn characters. The relationship between JJ and Howie is at the heart of the play, and Francis Magee and Eamonn Owens work superbly together, despite Owens being the only member of the cast not to have been in the 2006 production (Jamie Beamish unfortunately had to drop out due to his treatment for Hodgkin's disease). Based on a typical double act pairing, Howie is the not-too-bright one who looks up to the wisdom of JJ, who constantly reveals himself to be not as knowledgeable or experienced as he tries to make out.
Kieran Cunningham is great as the officious official Brendan, very fond of displaying his authority and drawing attention to the finer points of local authority regulations. Siobhan McSweeney is also wonderful as the girl, which she plays with childlike naivety and bluntness.
Designer Laurie Dennett's set does a great job of creating a really terrible beach that extends with its litter and dead animals right out of the theatre doors with a terribly grotty hut at one end, lit effectively by Richard Owen. There are some nice atmospheric sound effects from Steve Brown and Claire Windsor.
There is some great comedy in this script with dialogue that just crackles along at times, but the play takes a sinister turn later as it is revealed that there are more reasons to not want to be in distress on JJ and Howie's beach than the fact that they have lost the vital pages from the lifesaving manual.
Greg Hersov has directed a tight and entertaining production with a superb cast to create a very entertaining and funny and occasionally uncomfortable piece of theatre.
Reviewer: David Chadderton