The Graft
Martina Cole, adapted for the stage by Patrick Prior
Theatre Royal Stratford East
(2011)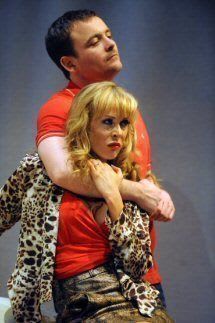 Martina Cole is the prolific best-selling writer of dark and gritty novels often set in the criminal underworld of east London and Essex. The Graft (which I have not read) is no exception and in this stage version centres on the Learys, an upwardly mobile couple who live in luxurious style in Essex. Wife Tammy thinks nothing of blowing a couple of thousand on one lunch but she started life in a grotty housing estate with an alcoholic dad. Husband Nick, who is threatening to cancel her credit card, points out that it is he who has made it all possible through his hard graft in bars and clubs and property development.
The play opens with Tammy on a lounger at her poolside with a male friend talking about perhaps having another boob job, then she comes forward and herself begins to recount the story, taking us back in time to the night when her husband surprised a masked burglar with a gun. The characters line up behind a gauze and then husband Nick rushes in blood spattered, wielding a baseball bat.
The burglar, whom he has battered senseless and near death, turns out to be a fifteen year old boy, son of a drug-hooked prostitute. His estranged father's search to find out how this came about and to get revenge forms another stand to the story which at first is not easy to put together but is gradually uncovered as a history of violence and abuse, rent boys and criminality.
Jemma Walker gives Tammy just the right mix of Essex common in her voice and confrontational manner but wears her over-the-top glittery wardrobe and elaborately dressed tresses with great style, looking stunning on her fabulously long legs. Neil Maskell's Nick gets something of the neurosis of someone with too many dark secrets to hide but there is little sign of the appeal he must have had for Tammy in the first place and that made a new young lover want him to leave his wife (which is as much as I can say without revealing the complications of the plot).
Ryan Romain's production keeps a brisk momentum going as brief scenes follow each other on Colin Falconer's set of light panels, gauzes and the minimum of token furniture, but, like the elaborate chandelier that hangs high above a very expensive sofa to represent the Leary home, they are separate statements that don't quite come together and there is little to create any feeling of life outside the moment.
Children are referred to as at boarding school but it is difficult to see this as a family and though Kika Mirylees as Nick's mother who lives with them makes the most of a few intimate moments she shares feelings with Tammy, you can't help wondering why she's there. Violence is often played out in slow motions sequences, sometimes in the background to other action and is shockingly effective but the shower of falling red petals that is used to emphasis the bloodiness at one point instead imposes an awkwardly romantic image. Sprayed or spurted from below it might perhaps have worked but not like this.
The best performances come in a scene when Roger Griffiths as the burglar's father interviews a boy who knew his son (played by Robert Ellis) which allows them to explore their characters a little but too often we get only the bare bones of the plot. This is a script that feels over-filleted, if you will forgive the contradictory metaphor.
Run ends 12th March 2011
Reviewer: Howard Loxton