The Lesson
Eugene Ionesco
Not Applicable
White Bear Theatre Club
(2007)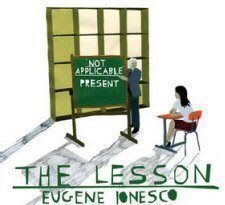 The Lesson may be one of Eugene Ionesco less well-known plays, but the grandfather of the absurd is still as resonant today as he was back in the 60s. A three strong cast of archetypal characters - The Professor, The Pupil and The Maid - all play on the merry-go-round of power and status, but it is the Pupils who all end in the ground, while the Maid cleans up the Professor's mess.
The Professor, played with an overt theatrical presence by Daniel Hoffmann-Gill, slowly deflates his innocent, eager and enthusiastic Pupil, played with both charisma and vulnerability by Ana Valenica. This 'deflation' is represented symbolically through Ana Valenica's performance, and took the audience on an effortless journey through their own childhood and back again into the white and clinical theatre space.
The Maid, play by Carly Davies, seemed to have a strange alliance with the space and the set. Both seemed to know something the audience did not.
The lighting board had unfortunately refused to work and the actors were naked to a florescent light. However, this seemed to work to their advantage and the set, designed by Natasha Stamatari complemented the light and dark shadows created naturally.
The direction is minimal and swift but within tiny gestures, great statements are made which can only be an example of the Arnaud Mugglestone's insight into the play. What out for this young director!
Eugene Ionesco's message about power and politics has not dated. Consider if you will the education system and question whether or not it is an aggressive and overpowering institution, especially in Key Stage 2 and 3? (Speaking from a supply teacher's perspective I have witnessed for myself how the lively and enthusiastic children are sedated into silence. Energy is seen as interruption and interruption is disruptive and disruptive children are given three strikes before they out.)
Reviewer: Lennie Varvarides