Therapy / Peter Creme's Eyes
Dick Curran / Tracy Whitwell
Part of the New Writing Studio Sessions series
Live Theatre Studio, Newcastle
(2010)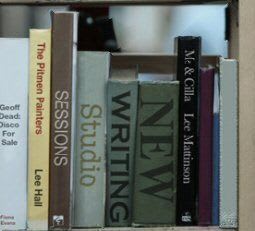 Live's New Writing Studio Sessions are an opportunity for audiences to see work being developed by writers in the region, whether in the form of rehearsed readings or, as with the two plays under review here, full productions but with a very limited rehearsal time providing what Literary Manager Gez Casey described as "theatre red in tooth and claw". These two plays had a mere four days of rehearsal each.
Therapy
By Dick Curran
Driving instructor Simon (Tony Neilson) and his wife Louise (Libby Davison) are going through a crisis in their marrage, thanks to his adultery, so she forces him to undergo counselling with Brian (Paul Charlton). Meanwhile he is teaching young and attractive Becky (Anna Bolton) to drive. On an in-the-round set comprised entirely of wheeled office chairs, director Gez Casey makes the frequent transitions - a merry-go-round from home to counsellor's office to car to Louise's sister's house and back again - slick and speedy, with barely a pause in the dialogue.
In just 45 tightly-written minutes - much more quickly than in the numerous counselling sessions! - Simon's character is revealed, each scene giving us a little bit more understanding of the man and how he comes to be in this situation.
Therapy is a serious look at a man and the life he has created for himself but told with a great deal of humour, much of which arises from his attempting to evade being honest (with himself as much as with everyone else), which makes it all the more effective.
Peter Creme's Eyes
By Tracy Whitwell
In Peter Creme's Eyes we meet two quarrelling sisters, Mel (Libby Davison) and Katharine (Angela Lonsdale), whose rivalry (indeed dislike) goes right back to childhood. Katharine has a successful career as a freelance journalist but Mel has achieved nothing. She's reached forty but has never married. Now she has been corresponding with convicted multiple murderer Peter Creme (Paul Charlton) about whom Katharine has written a vicious Guardian article.
Whitwell accurately evokes the sibling rivalries, misunderstandings and sheer blindness, and, in Peter Creme, has created a chillingly convincing character so that, when the three come together, an almost unbearable tension is created. However I have to confess to finding the ending somewhat disappointing. There was a moment when I thought we had reached the end, that the piece would finish with a degree of uncertainty, of ambiguity. However either Whitwell or her director Rosie Kellagher (without sight of the script it's not clear who) decided to make the outcome explicit which I felt weakened it.
But this is my only criticism. As with Therapy, the writing is strong and the characters well drawn. And in both the performances from the very experienced actors (even the younger cast members have an impressive pedigree) were very convincing and perfectly in keeping with the very intimate studio setting where, at times, the actors are almost standing on the toes of the front row.
Two weeks ago, in reviewing Seeing Double in Live's main house, I wrote "All kudos to (the RSC and) Live for giving new playwrights a fantastic opportunity to flex their writing muscles" and I can only repeat this here. There are three more of these Studio Sessions to come in the next couple of months which, together with Seeing Double, the tour of Tom Kelly's Hungry Hearts and Heads, the performance of Alison Carr's Can Cause Death at the National next month and the opening of Fiona Evans' new play The Price of Everything at Scarborough's Stephen Joseph next week, prove that there are some fine writers working in the North East who are pushing their own and their audiences' conceptions of what theatre can do.
Reviewer: Peter Lathan