There Has Possibly Been An Incident
Chris Thorpe
Royal Exchange Theatre
Soho Theatre
–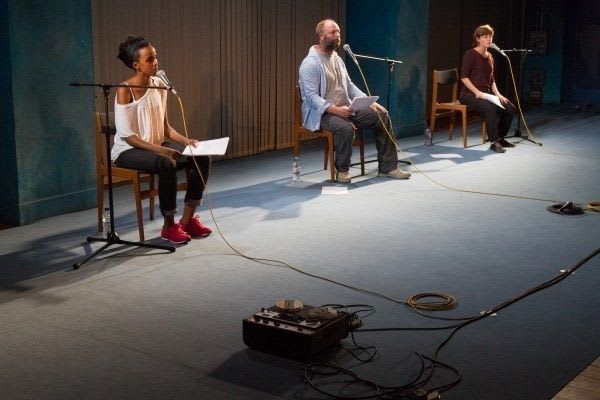 What would you do if your plane didn't land the way it was meant to? What would you do if you found yourself in the middle of the Tiananmen Square protests? What would you do if you overthrew your country's dictator and rose to power? We would like to think that we would make courageous decisions. That we would save lives. Be heroes.
But of course it's not that simple. Chris Thorpe's There Has Possibly Been An Incident tells a series of interwoven stories that grapple with the moments heroes are created and what happens afterwards. This compelling new production explores the intricate thought processes that go through the minds of individuals who find themselves at the crossroad between heroism and compromise and have to make a decision. For better or worse.
With just a bare stage, three chairs, microphones and scripts-in-hand, Sam Prichard's direction is remarkably raw and almost anti-theatre. Nigel Barrett, Gemma Brockis and Yusra Warsama sit facing the audience and deliver their stories in a precise and unselfconscious fashion. The audience is hypnotically drawn into each individual story, and have to work to put the pieces together. The hour is intense and utterly engaging.
Amongst these individual anecdotes, another character emerges. Reminiscent of Anders Breivik's attacks in Norway in 2011—or even the more recent massacre at the Westgate centre in Nairobi—Nigel Barrett acts as the mouthpiece for a man who has just committed a mass murder of children, is on trial and feels no remorse. Startlingly, he presents his justification in lucid, almost forensic terms. This dialogue exposes the danger of human conviction, and is a chilling reminder of the violent capability of human nature.
Each story interrogates hefty questions about the nature of humanity, morality and politics, but the text is refreshingly honest and unpatronising. Thorpe does not try to answer these questions, but just unpicks moments of human interaction in the attempt to understand the motivation behind every decision. If the personal is political, then Thorpe exposes the reverse of this maxim: that the political is deeply, deeply personal.
A glimmer of hope emerges in the final speech as the actors speak in unison, detailing the perspective of a bystander who witnesses the murderer's attack, and in a split second decision decides to take action. The lights slowly flood the auditorium, and the audience are eventually left in the same bright glow as the actors. This change in atmosphere passes the responsibility of action onto the audience, and reminds us that we can't choose the circumstances we find ourselves in, but we can choose how to respond.
Reviewer: Rhiannon Kelly