There's a Dead Body in my Baby's Sandpit
Devised by the cast and company.
Falling Doors Theatre
Hope Street Theatre, Liverpool
–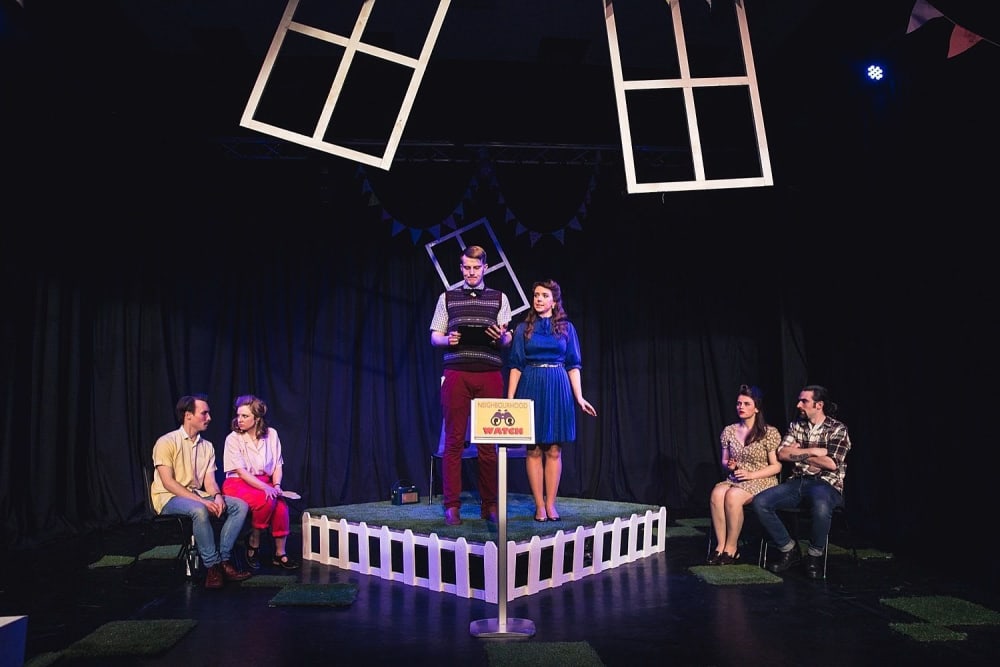 It takes a lot of energy, commitment and self-belief to launch and sustain a small theatre company, and artistic director, Sarah Van Parys along with creative producer, Nancy Msiska deserve great credit for achieving that with Liverpool's Falling Doors Theatre.
The company's latest venture—still in development, but braving audiences nevertheless—devised by the whole company, is engagingly titled There's a Dead Body in my Baby's Sandpit.
Described as a "dystopian dark comedy", the piece might be best summed up as Ayckbourn meets Ionesco meets Jake and Dinos Chapman's Great Deeds Against the Dead. (Note to the potentially squeamish: the body parts on show in There's a Dead Body… were most likely last seen starring in the window of George Henry Lee's).
Self-appointed community (or is it 'commune') leaders Glenn (Catherine Devine) and Phillip 'not Phil' Gooding (Michael Schenck) have organised a garden party to welcome new arrivals Linda (Shawney Ross) and Brian (Elliot Burton), who have their own 'new arrival', baby Nelly. Also present are Lesley (Natasha Hale) and handyman Ian (Conor Burns), who may or may not have something going on (Lesley's home seems to need an awful lot of repairing).
Of the many rules which keep this select community running smoothly, Glenn and Phillip insist on one above all others: attendance at meetings of the Neighbourhood Watch is compulsory!
The new couple have been on a very long waiting list to get here, so they're willing to play along, desperate to fit in. Baby Nelly seems happy playing in the sandpit and is the only one not fazed when she digs up a body.
Not wishing to stand out or cause a fuss, Linda and Brian decide to keep quiet and dump the body elsewhere—not so easy when Glenn and Phillip are maintaining such a careful eye on comings and goings (binoculars included). Meanwhile, the unidentified corpse (helpfully dubbed 'Robert' by Linda) is becoming increasingly "ripe".
Before long, it becomes apparent that Linda and Brian are not alone in their predicament—body parts are popping up everywhere. Why? they wonder (so do we). And what is to be done?
Intercut with the mayhem, each character delivers an occasional monologue—almost in the style of a job interview, or an act of psychological profiling. Here, perhaps, is a hint of a quest to purge past "sins", to be granted some kind of redemption? The acting style here is much more naturalistic (a bold contrast with the main storyline)—if anything, Van Parys might encourage her cast to invest even more in these moments; the potential layering of character, set against the farce and slapstick of the main plot, is thought-provoking.
The intimate theatre space at the Hope Street theatre is well-utilised by Caitlin Mawhinney's suggestive design, hinting at deep repression with its lawns, tightly trimmed rose bushes and picket fences, and sparingly lit by Ink Duangsri and Callum Southern.
It's a home crowd tonight, who lap it up. Tougher audiences might look for stronger humour and something more in dialogue and plotting. Devised pieces certainly give a company a sense of ownership, but an experienced writer (even acting as dramaturg) can so often take a decent idea to a higher level.
Reviewer: Martin Thomasson