There or Here
Jennifer Maisel
The Hypothetical Theatre Company
The 14th Street Theatre, New York City
(2008)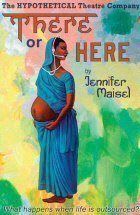 We outsource technical support, clothing production and medical advice to third-world nations where the pay rates are generous despite being below US costs. Jennifer Maisel takes this idea a step further and puts a couple incapable of having their own child beneath the magnifying glass. Her setup is wholly original, and the play errs on the side of exploring the human side of the equation – with a raft of complications that would be unbelievable if it wasn't so true – while avoiding firm judgments on either American or Indian couple for the paths they've chosen to take.
Annie Meisels (Robyn) and Alok Tweari (Ajay), as well as Judy Rosenblatt (playing a dual role as both Robyn's mother and the clinic director in India) carry the show, with supporting players adding depth and complexity. Meisels has the task of portraying a character whose incessant dilemnas and need to discuss her feelings and decisions could easily be off-putting; instead she brings Robyn's anguish and determination to centre stage as her character blasts philosophy down the line to a technical support person named "Angelina" (Porva Bedi), who claims to be located in Tulsa but sports a thick Indian accent.
Jennifer Maisel has a great ear for dialogue, though perhaps director Amy Feinberg could have done more to bring out the heightened, poetic feeling of the monologues, which, as delivered, feel overlong and as if they are slowing the pace of the play. According to the program, the play takes place over the span of five years in both New York and India. While shifts in location are clear, shifts in time are less so, and this is also a point where more clarity would have been appreciated.
In its final moments, There or Here takes a twist which poses an even more interesting question than the original one – after a woman has carried a baby for another couple for nine months, do they owe her anything more than money?
Reviewer: Rachel Lynn Brody