Theremin
Petr Zelenka
Dejvické Divadlo
Greenwood Theatre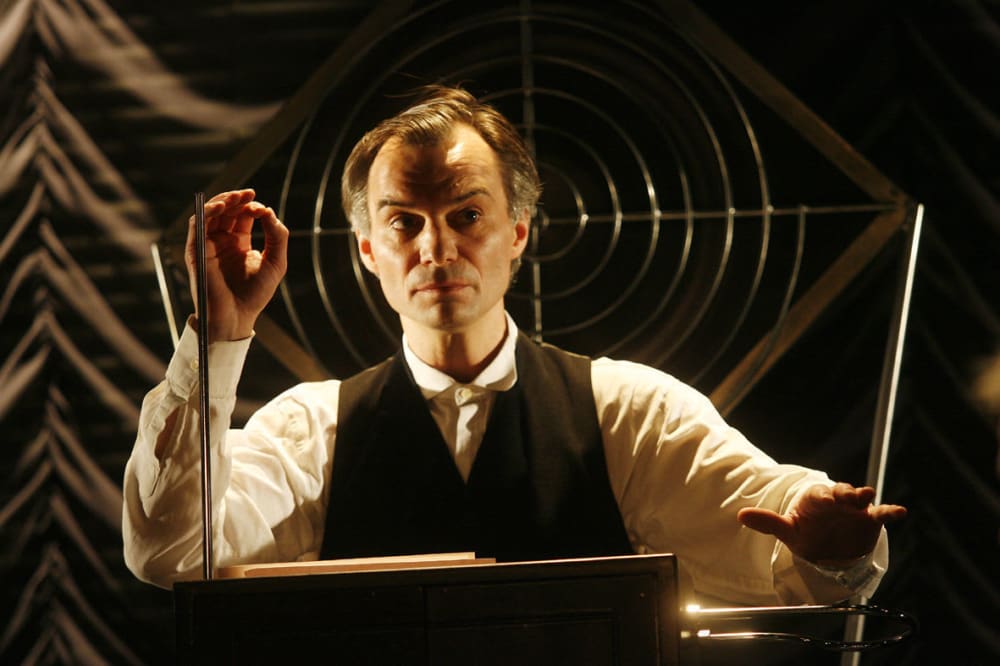 Lev Theremin was a Russian inventor who created the musical instrument named after him, the Thereminvox (or simply Theremin), an electronic device played by the movement of the hands around its antennae that was the precursor of the synthesiser.
After a demonstration for Lenin in the Kremlin in 1922, Theremin played it in concerts all over Russia before taking it to the United States, encouraged by the Soviet authorities to do so. He began to stage concerts in America and RCA made a contract to mass-produce it, though the Stock Market crash of 1929 occurred just after it went into production, killing the possible market.
Zelenka's play covers the period from Theremin's arrival in America to his departure ten years later when there is some mystery about the reasons for his return to Russia. It's not documentary but a fictional version that doesn't agree with some accounts of Theremin's life but it is an intriguing picture of a man whose life seemed determined by outside pressures and whose driving force may not have been quite what he sometimes claimed.
Although Theremin is there with his German business manager Hans Goldberg trying to patent and sell his inventions (one of them an altimeter that gave him good contact with the aviation industry), he is also on a mission for the NKVD, complying with their instructions to avoid repercussions for his family in Russia, though in fact a supporter of the Bolsheviks anyway. He even sees his instrument as helping the goal of changing the world because he claims anyone can play it—you don't need special talent.
Theremin and Goldberg at first met after a concert in New York entertaining VIPs they hoped to gain support from including aviation industrialist Walter Rosen and his wife and Chicago Orchestra conductor Joseph Schillinger, though there is a problem, for neither part managed to get there in time to actually hear the instrument. But Rosen's hedonistic, rather tipsy wife is dying to hear about the Russia of "Free Love," suggests Thereminvox recitals in the illicit bootleg bars (she calls them brothels) her husband owns and seems to have taken a fancy to Theremin.
The only person there who has heard the Thereminvox is a waitress whom Theremin asks to join them—but not only is she staff but also African-American and the guests all refuse to sit at table with her and leave. Meanwhile, since this is a segregationist restaurant, the major domo says he cannot serve them and no sooner has Theremin poured wine then he takes away all their glasses.
The play offers an intriguing contrast between an idealistic, egalitarian communist and the attitudes of prohibitionist America, but as it recounts the initial success of the Thereminvox and then the disastrous decline of Theremin's luck it successively uncovers a series of versions of the truth behind that 1922 meeting with Lenin and what really motives Theremin.
Theremin uncovers an intriguing story and tells it with lashings of humour and given a lively production by Petr Zelenka directing his own play—which of course includes the Thereminvox in action and a very funny episode when self-styled Hollywood scriptwriter Samuel Hoffman, who together with Schillinger became partners in the Thereminvox business, faked the sound vocally at a concert when an instrument had been broken.
There is a finely shaded performance from Ivan Trojan as Theremin, a touching Lavinia (the waitress, whom Theremin subsequently marries) from Eliška Boušková, Jiří Bábek gives just the right amount of buffoonery to Hoffmann and Martin Myšička a maestro Schillinger with his own priorities. Zdeňka Žádníková is the promiscuous Lucie Rosen and Klára Melíšková Theremin's first wife, who suddenly turns up, and there's a neat cameo from Petr Koutecký as the major domo.
Theremin is presented as part of the Czech Centre's 20th annual Made in Prague Festival, along with single performances of A Blockage in the System (adapted from Irvine Welsh's The Acid House) and The Winter's Tale (all by Dejvické Divadlo and all surtitled in English), and a programme of film screenings and other events. We get too few opportunities to see European theatre companies in London: what a pity they are not giving further performances.
Reviewer: Howard Loxton