The Tartuffe
James Wilkes (after Molière)
Belt Up Theatre
Southwark Playhouse
(2009)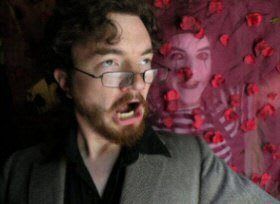 Belt Up is a company started by students at York University in 2007 that collected awards at that year's National Student Drama Festival and last year at the Edinburgh Fringe, where they staged five different productions daily. Graduated and turned professional they continued to gain plaudits at this year's Fringe and, as well as taking up a residency at York Theatre Royal, have now brought two productions to London.
Away from the Festival euphoria how do they fare? On the basis of this show they are still very studenty: though I believe they redevelop their work to fit different venues, they were students when it was first created. There is a style of humour that flaunts its own silliness that pervades much of so called 'comedy' at present that has an enthusiastic young audience but, for me, can seem puerile and self-indulgent. Is it just a matter of different generations, or that some of the audience have had a few jars or a puff on something aromatic that produces hilarity in some younger audience members while not quite hitting the mark with the rest of the punters?
Maybe, despite being reworked, this company are perhaps still to close to the material they originally created. There is a considerable display of talent and the overall concept seems a good one but too often they are self-consciously signalling 'laugh, I'm being funny' and it takes a very particular skill to make that work instead of just getting on with it.
This isn't, of course, Molière, though the leading character, actor-manager of a troupe of players, is called Orgon Poqueline, combining of the name of the original play's leading character with Molière's family name. It really makes nothing of the original's attack on hypocrisy and false piety so that, apart from a token look at the abuse of parental authority, the emphasis shifts to jokiness and some exaggerated bawdy. The meta-theatricality parallels some Molière, with humour based on rebellion among the company and audience incorporation, but most of the laughs come from sheer zaniness and coarse acting. There is a lot that is funny, though some passages, especially towards the end, are over extended.
The company create a wonderfully warm atmosphere. A French-accented clown tricycling around before the show may accost you with a greeting or M. Poquelin himself bid you good evening. They hospitably get you seated and charm extra actors from the audience. Jethro Compton's clown stage manager is particularly engaging. There are strong performances from James Wilkes's as a Blip-like Cleante (though his mime misses being Marceau) and from Marcus Emerton who makes a rather likeable rogue of Tartuffe but the weight falls largely on Dominic J. Allen's Orgon who's self-important pomposity is mainly played at such fast pace that his character never has time to think but becomes a shouting automaton. This seems a directorial error (the actor gives a very different performance in the company's companion offering) that perhaps is symptomatic of Wilkes whole production.
This is a show that sometimes seems on the verge of chaos, but actually chaotic it isn't. From even such little things as they way props are retrieved when they are thrown across the stage it is clear that much of it is meticulously ordered. A little more sense of order in the production itself, against which to set off its chaotic zaniness, would have made it much funnier and perhaps allowed more of Molière's original message to survive.
Ending with the audience hugging its hard-working cast this is a show that makes for a feel-good audience. It is a company that deserves support and encouragement but, on this show, I have to say I feel sure they can do better.
At Southwark until 28th November in repertoire with "The Trial"
Reviewer: Howard Loxton