The Wolf
Ferenc Molnár
Sturdy Beggars Theatre Company
Network Theatre
(2011)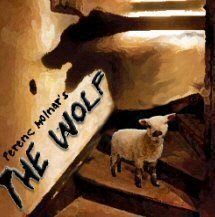 It is a long time since Molnar's 1912 The Wolf has had a London airing, not since 1973 I think when Frank Hauser staged it with Judi Dench, Leo McKern and Edward Woodward. The Hungarian writer's work is best known here through adaptations like the musical Carousel or Tom Stoppard's Rough Crossing but this version (which doesn't credit any translator or adapter) seems a fairly straightforward treatment which, though clearly on a tight budget, still manages a sumptuous sense of period in its costuming by Josie Martin and Charlotte Randell.
It opens a little awkwardly with a couple of cavalry officers repetitively comparing girls they've seen, the lines more like the chorus for a musical number than a conversation and it needs a lighter touch to pitch this into the mood of farcical fun that is at this play's heart, but once the main couple of the story take their table things proceed more fluently. They are jealous and paranoid Eugene Kelemen and Vilma, his attractive young wife. Though they have been married several years and have a little boy, he clearly can't believe his luck in catching her for, as he declares he has no skills in paying clever compliments or cooing romantic love, he intends to show his devotion by making her a lot of money. At the same time they are a typical bickering married couple. She isn't hungry, he insists she eats, and things escalate in tension when another man comes into the restaurant alone, dark-bearded, handsome George Szabo. The cavalry men know him and Kelemen feels sure that George knows his wife, though she denies it.
Was he an earlier lover as Kelemen seems certain? She acknowledges she did know him but had forgotten all about him, though her husband insists she acknowledge him before they leave to go home and dress for a grand soirée at the house of a Duchess where Kelemen will set up his property transaction. Brendan Jones and Katherine French are well matched performers in playing Mr and Mrs Kelemen, he animated in a way that belies his own thoughts about himself, she seemingly controlled and distant but with a hint of a quite different woman underneath her cool facade.
While Kelemen goes off to read a story (about a wolf) to their little son, Vilma falls asleep and now things move onto a different level. A glimpse of Szabo through the window is not enough to set in motion the next scene at the Duchess's party. Vilma now encounters not one but several Georges all returning to claim her, a journey into the dreams or the subconscious of a woman who longs for romance. Alexander Andreou makes them all seem just slightly different: military hero, smooth attaché and temperamental opera singer, though only in the last is he allowed to play full out for comedy, larger than life like Josie Martin's scarlet-frocked swooning Countess.
That is far from the end of the story, there is another twist to come, including the return of the fairytale wolf, though the real Wolf of the title must surely be the one in Kelemen's jealous imagination.
Jamie Harper's production might be more of an audience pleasure if it gave the farce a looser rein and he handles things a little unevenly. Lucy McCabe's travestie waiter gets just the right satirical comic edge in the restaurant scene but a running gag of bullying butler and browbeaten serving man crossing and re-crossing the stage on errands for a temperamental baritone is taken a bit too far when the butler painfully grabs the waiter's balls to emphasise his authority. He solves resetting furniture on a stage that effectively has no wing space with a delightfully East European touch having Szabo and Vilma waltzing at the centre of the furniture arranging.
Though very effective in reflecting the undercurrents and odd pairing that make up many a marriage, this seems a production that needs to let its hair down and have a bit more fun, I'm sure it could do that without losing its inner seriousness and perhaps it will as it runs in with an audience.
The Network Theatre, new to me though it has existed for many years, is approached via the service road at ground level immediately next to the Waterloo Road exits from Waterloo Station. Pass through the security gates and it is on the left.
"The Wolf" runs at the Network Theatre until 3rd September 2011.
Reviewer: Howard Loxton