They Don't Pay? We Won't Pay!
Dario Fo, adapted by Deborah McAndrew based on a translation by Jon Laskin and Michael Aquilante
Northern Broadsides and York Theatre Royal
York Theatre Royal
–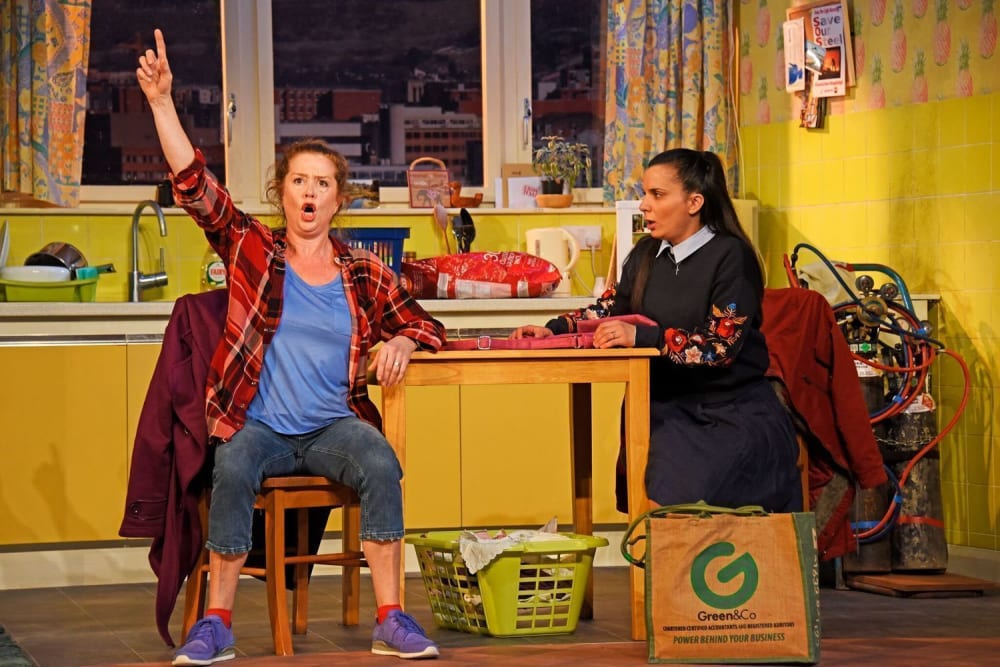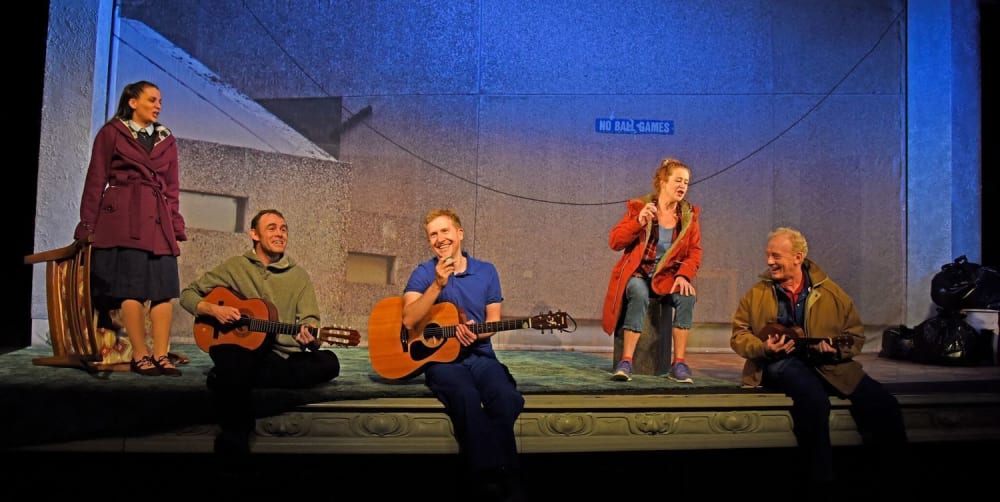 Ten years on from the Northern Broadsides production of Dario Fo's Accidental Death of an Anarchist, this new adaptation reunites several of the same team in a timely, broad comedy which makes a few well-placed jabs at our current political situation.
Dario Fo's (and, it must be remembered, Franca Rame's) approach to performance was Commedia-informed and proudly populist, playing to hundreds of thousands of spectators at their 1970s peak of popularity. They also battled against a heavy-handed state machinery all too quick to censor, shut down and otherwise interrupt performance which sailed too close to the wind of change.
Despite the hugely different performance and political environment of the York Theatre Royal, this production manages to remain remarkable faithful to the spirit of the original while not feeling dutifully indebted to its Italian heritage.
The basic set-up sees Anthea, a hard-up but quick-witted unemployed housewife (Lisa Howard), enlisting her slower-on-the-uptake friend Maggie (Suzanne Ahmet) in concealing a cornucopia of household goods nicked from a local supermarket in the wake of mass protests at rising prices.
At first the jeopardy is created by the need to hide the pilfered provisions from husbands Jack (Steve Huison) and Lewis (Matt Conor). Both of these are principled working men—one an old-guard, lifelong Labour voter and one a newer, more Corbynite radical. As complications mount, the Old Bill comes knocking. Fo wrings comic opportunity from the fact that the first policeman to call is a Constable (Michael Hugo) who's surprisingly left-leaning and sympathetic to the family's plight. Furthermore, he's soon followed by his Sergeant, a much more authoritarian figure who nonetheless looks remarkably like the Constable.
Michael Hugo spends a lot of the first act waiting offstage, but he's busy once he appears, doing double—then triple and quadruple—duty as the policemen and a string of increasingly implausible incidental characters.
Fo revels in clowning and confusion, and all the classic scenarios of the original are well-staged here: the frantic hiding of stolen goods, the escalation and mistaken identity, the self-aware multi-roling, and the increasing insanity of the multiple deceptions. (These include near-death experiences, fake pregnancies, and the appearance of a coffin, adding to the hiding places.) The cast perform with an almost mask-like overemphasis, facing outward and grimacing faux-awkwardly at some of the more tenuous puns, like 1970s stand-up comedians.
The set, too, is oddly out of time, with garish green wallpaper and faded brown furnishings which speak of un-cared-for former council flats, and which could also date back to the time of Morecambe and Wise specials and, well, an unelectably left-wing Labour party.
This might contribute to the slight feeling of oddity when starkly contemporary references—to the #MeToo movement or the Chequers "deal", for instance—are sprinkled across the script. While some hit the mark, others feel a little more crowbarred, and the shifts to more directly political proselytising risk coming across as hectoring.
The gear-changes from uproarious farce to such direct soapboxing are well-managed by Conrad Nelson's direction—and certainly in keeping with the Fo original. But the archness of the humour and the bluntness of the rhetoric won't please everybody. I thought frequently of Joe Orton's similarly unhinged worlds, though, unlike in Fo, Orton's point-scoring against the Establishment was submerged within the farce structure rather than placed directly in the mouths of the coffin-smuggling protagonists.
It felt to me as though the production needed a bit more breathing room. The cast's regular fourth-wall breaking came across for the most part as strictly scripted, whereas the one or two moments of seemingly genuine confusion or line fluffs actually added a real sense of conversation between stage and auditorium. I'm also fascinated to see how the show translates to other stage configurations—as ever, Broadsides is ambitiously touring to proscenium, traverse, thrust and in-the-round settings.
The end—rewritten by Fo in the wake of the banking crisis, darkening his originally optimistic climax—is wrongfooting and superbly realised; Pirandello-like, characters and ideologies evaporate in this ghostlike coda. Like other Broadsides shows (the other Fo and A Government Inspector, for instance), the distinctive northern voice supports and enhances a sensitive, faithful but not reverent translation.
Like those productions, this new translation showcases Deborah McAndrew's keen ear for a gag and her evident love of language: "I don't want your knocked-off nosh up my frock any longer" moans Maggie at one point. Place this alongside a heartfelt cross between a paean and an elegy for the committed working class, and you have a brave, often funny, wilfully odd night at the theatre. Now the mechanics are in place, it's to be hoped the cast can let it fly a little more freely.
Reviewer: Mark Smith