They May Have Even Eaten Ham!
Naomi Paul
theSpace @ Surgeons Hall
–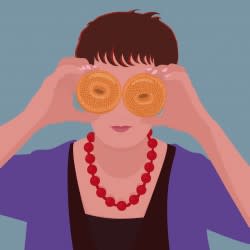 Naomi Paul's gentle, often amusing monologue with occasional songs takes us on a journey across continents as she shares with us episodes in her own life alongside a family history over several generations. It's as much an entertaining look at Britain today as it is the past that shaped us.
Her family came to Britain from Eastern Europe, her grandfather once being arrested in Russia for carrying a left-wing newspaper. Her dad's family settled in South Wales and her mum's family in England.
She spent her early childhood in different parts of London, but eventually settles in Birmingham.
Each move generated cultural adjustments, such as her family enjoying Christmas while making sure the food was kosher.
Sometimes, Europe's disturbing history shaped how they responded to new events and what might seem to be innocent cultural features. As children, Naomi and her sister had the opportunity to join the Girl Guides, which allowed a quota of Jewish children to join (many clubs barred their admission). However, parental memories of the uniforms of the Hitler Youth prompted a reluctance to have them in the Guides.
There is a warm, conversational shape to the show with a fine sensitivity to the audience, which Naomi encourages to volunteer their thoughts on certain aspects of the account.
The final song is a plea to "shine a light on human rights", which reminds us that refugees are "not a planned invasion". Objecting to the government's plan to send refugees to Rwanda, it recalls that Germany in the 1930s "came up with a plan to send Jews to Madagascar."
This is a thoughtful, engaging forty-five-minute performance and no ham was eaten.
Reviewer: Keith Mckenna