They Only Come at Night: Vision
Slung Low
Barbican Centre
(2009)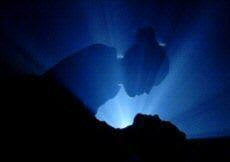 Last year Yorkshire company Slung Low, which specialises in 'theatre installations,' brought Helium to the Barbican; now they are back with a reworking of a 2007 promenade work which takes place largely in the underground car park. It is a participatory experience made up of video, live performance and headphone communication with the mysterious vampire hunter Quinn, who guides you through an alien world of evil enemies.
It begins with a video that informs you that Slung Low have suddenly disappeared. Instead the Barbican Centre have arranged for another company called City Night Tours to takeover with a replacement for the show.
That rather destroys the whole idea of this being a 'real' event - if something has just happened you don't have a pre-recorded video available announcing a sudden change of show. In real life you'd have a live person or at worst an apologetic tannoy announcement. However, for those of a nervous disposition it may be reassuring to be reminded that this is a theatrical performance, though it does seem more like real life when a smartly uniformed young lady from the tour company joins you. She gives one of your small group of three a head torch to shed light in dark places (you are each already equipped with glowing light sticks), then she shows you to your transport and off you go.
I need hardly say you never make it to the tourist attractions and night spots of the city that you have just be promised. You are caught instead in a place where you are vulnerable; a violent world where the people trying to protect you (if you believe they are) blame dark forces for murders and the muggings right back to the death of Abel. It wasn't Cain who killed him: and now those that did are after you.
This is a place of vampires and blood licking dogs (you can hear them), of dazzling lights in your eyes and scurrying figures in the dark. As Quinn tries to guide you from one safe haven to another it is not just his voice you hear but one of the others, maybe their captain, maybe the Fear that you are told is necessary if you are to have God.
Each participant takes a slightly different journey, sometimes progressing side by side with their two companions, sometimes separated. The people or creatures they encounter, the messages they receive, are not all the same.
Moving slowly, waiting in supposedly safe havens, you are deprived of control and initiative, having to follow instructions without knowing whether you can trust them. That in itself has a destabilising effect but how well this works will be depends on how much you play the game, how much of your imagination you invest in it. I think you would have to be of a very nervous disposition to find it truly scary, though I did have moments of real apprehension. At least I can report that all my group survived, though I can't guarantee that will be true for all. It is an intriguing half hour or so. I think it would gain from more live action and perhaps an encounter with real darkness but it works well enough for me to have wished it went on longer.
At the Barbican Centre until 15th November, then Lawrence Batley Theatre in Huddersfield 23-28th November 2009
Reviewer: Howard Loxton