Thick
Rich Bland
New Diorama Theatre
(2011)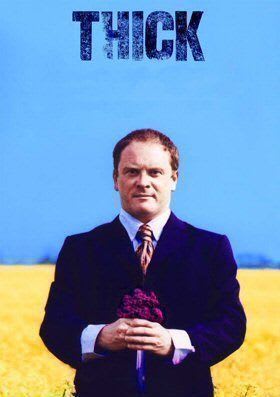 Written by and starring Rich Bland, Thick is the story of Rudolph, the child-like man who was dropped as a baby. The naive but determinedly happy character flits from past to present, explaining his family as he understands them.
Bland makes a wonderful Rudolph, the cheerful idiot who starts by telling us that tragedy is a part of life and he loves life, so he accepts tragedy. He skillfully transitions from scene to scene, laughing one minute and crying the next, almost never leaving the stage in the 90 minutes.
Although thick, as he cheerfully admits, Rudolph has such a naive optimism that the audience question whether intelligence is all it's cracked up to be. He may not understand that the children chasing him are not 'playing tag', and he may not get that Mama isn't slurring her words because she's tired after drinking 'non-alcoholic gin', but his ability to see the good in everything makes him happy.
Bland is stalwartly back up by Genevieve Adam, Babara Barnes and Gary Fannin in various roles. All are good, but Fannin in particular is excellent with his portrayal of Rudolph's open and loving father, and his comic timing in other roles.
Although billed as comedy, the play is heaped with tragedy and is actually very moving. A reconciliation towards the end, though almost bordering on American schmaltz, is nuanced and touching.
It's not perfect; some of the message and moral conversations are a little clumsy in the writing and execution, and the extended metaphor that life is like a deck of cards serves its purpose, but feels a little forced in its introduction. However, there are moments of beautiful simplicity, giving a clear message without having to signpost. In particular, a conversation between Rudolph and a business man turned taxi driver reminds us that happiness comes in all shapes and forms, and often has nothing to do with perceived status, intelligence or money.
Thick was originally performed in Edinburgh, and there are parts of it that still feel very fringe festival – the hideous plastic creaking of Grandma, and a Pope John Paul II moment, for instance – but for the most part it is the subtleties of the script and performances that win through, and it's in these moments that the script is most poignant. The play is funny, filled with a Forrest Gump-like innocence, but what really stays with you at the end is the tragedy, and the optimism that gets Rudolph through it all. Though sad, it's very uplifting.
Reviewer: Emma Berge