Thieves and Boy
Hao Jingfang, adapted by Davey Anderson
National Theatre of Scotland in partnership with Òran Mór
Bedlam Theatre, Edinburgh
–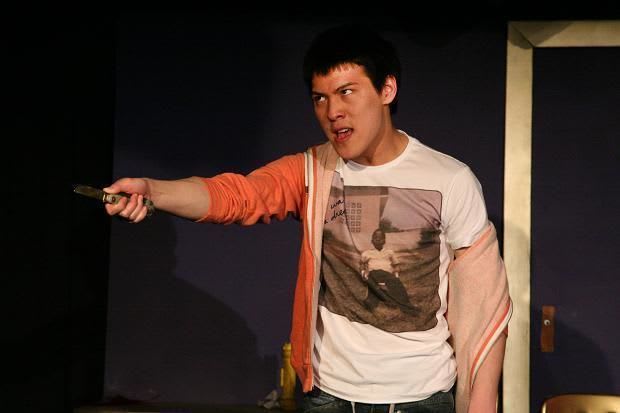 The National Theatre of Scotland has teamed up with Òran Mór to use the latter's very successful "a play, a pie and a pint format", although this was truthfully a drama, a drink and some dumplings.
The venue is Edinburgh University's shiny new Bedlam Theatre, whose sooty exterior has been transformed to reveal the blond stone beneath, although the play itself proved to be quite a dark, short comedy. The play has been translated by Anderson (who also directs) from Mandarin into English—well in fact mostly Scots for the two thieves, which gives the start tof the piece quite a comic feel.
The play takes place in a luxury top floor apartment of a prominent politician. The thieves Ping and Lei (Ross Allan and Martin Docherty) are not just after money and valuables, they are there for revenge. However events take an unexpected turn when they bump into a young man (Marco Chiu) attempting to take his life.
Docherty has a nice dry wit as the slightly more brainy of the burgling pair, Ross sets this off with a more timid bungling character; Chiu plays an isolated rich kid. Now this all sounds rather like Home Alone, but it is in fact a brief study in power, class and economic divisions.
The simple use of several sets of curtains to show the thieves advancing on their quest and the lip of the stage for the edge of the tower block roof are all good ways to use the intimate (and nicely spruced up) Bedlam stage.
A good translation, particularly the thief double act, although the Chiu's character didn't have a great deal to him and as short as the piece was the whiny rich kid did start to get a little annoying and monotonous. The back-and-forth between the characters was good though and the play oscillated well between calmer moments, comedy and darker drama.
The play packed in quite a lot to 45 minutes and with the very decent dumplings made for a satisfying lunchtime break.
Reviewer: Seth Ewin