Thin Air
Berlie Doherty
Cotton Grass Theatre
Museum of Science and Industry, Manchester
–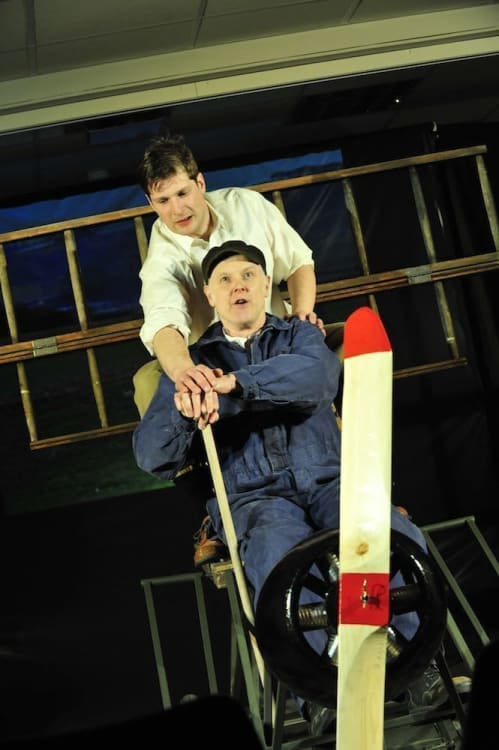 Cotton Grass Theatre brings its production of Thin Air by Carnegie Medal-winning author Berlie Doherty to Manchester's Museum of Science and Industry, performed next to the early twentieth century bi-plane that inspired her to write the story.
The play begins at the site of a fatal plane crash, or so it seems, somewhere in the Peak District of Derbyshire within sight of Kinder Scout. The story then flashes back to the pilot's (his name is Tony) childhood: brought up in an affluent family, Tony's sister Helen blames him for a tragic accident that killed their younger brother Clive and they don't speak again. Meanwhile, Helen has fallen for local boy Peter, whom Tony dismisses as "not one of us".
Tony is obsessed with flying, first through his interest in the kestrel and then, after he has persuaded the family chauffeur Collie to help him to build it, in his own aeroplane, which he names Cobweb.
When the First World War breaks out, both Tony and Peter enlist in the Royal Flying Corps, but there is a series of unlikely incidents at the railway station as they are about to leave. Firstly, Tony runs into Peter (whom he doesn't know) and his sister Sophie, with whom he falls instantly in love. Secondly, a strange woman leaves Tony with a baby and disappears, and he persuades Sophie to take it from him as the train is about to leave. This is the moment at which all of their lives change.
Act two is rather more fractured, as we return to the site of the opening scene, which we are told is 1936, 21 years after Tony was killed in action, when the young boy Will has found the dead airman but when he takes others to find the wreckage there is nothing there. Then people from Tony's past, including Collie, Helen and the woman who gave him the baby, come and talk to the ether at what they are are sure is Tony's ghost, purging their own ghosts and making a few revelations—a rather transparent device to deliver lots of information to the audience.
The script betrays the writer's background as a novelist as many of her devices are more literary than dramatic, such as the loose plotting, large cast of smaller characters, frequent repetition and long, descriptive meditations. There is a fascinating story at the heart of this play that draws you in while it is being told, but the lengthy monologues do drag on a little and either repeat information or when they give us something new it's hard not to think that there must be a more interesting way of putting it across. The exception to this is a really moving monologue at the end of act one from Tony about seeing the same German airman time after time and waving cheerily before shooting at one another—until one of them is successful with his mission.
At the heart of Joyce Branagh's imaginative production for Cotton Grass is a very strong performance from Laurence Aldridge as Tony, who still manages to be the emotional focus of the scene when he is lurking in silence as a ghost, observing. The others all play multiple roles, with an especially notable performance from David Westbrook as Collie and Sophie's husband in the later scenes Arthur, breathing real life and warmth into these passing characters. Also in the five-strong cast are Helena Coates as Clive and Sophie, Susan Daniel as Helen, the woman with the baby and Sophie's landlady and Mark Roberts as Peter and as Will, the baby as a young man.
The whole thing takes place on a very cleverly-designed set by Olivia de Monceau consisting of scattered objects covered in dust sheets that somehow come together, with the aide of projections, to create all of the many locations for the play. A particular highlight is the creation of the aircraft—apparently this is also the writer's favourite part.
The location is perfect in the cavernous belly of the Museum of Science and Industry, providing lots to look at during the interval and with the amazing plane that was Doherty's inspiration for the play just over the audience's shoulder.
The production is a mixture of some effective storytelling and some parts that are too novelistic to really work well (the death of the young brother just doesn't work at all), but it has an interesting tale at its core that is worth telling, and at MOSI has the perfect location in which to tell it.
Reviewer: David Chadderton