Things We Do For Love
Alan Ayckbourn
Richmond Theatre
–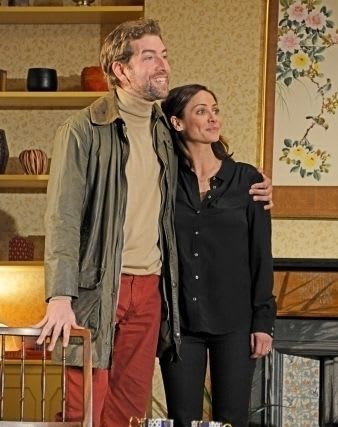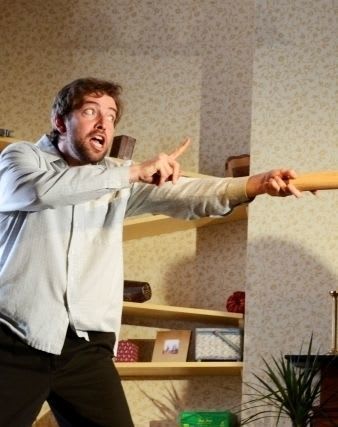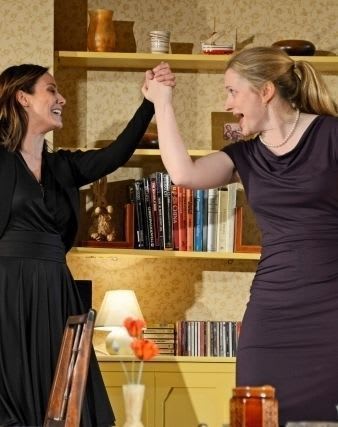 First staged in 1997, Alan Ayckbourn's Things We Do For Love is another of the playwright's patented relationship roundelays.
The action, this time, unfolds in a Fulham house split into three flats wherein four characters interact. The property is owned by Barbara, a prissy, bossy woman who's apparently embraced early spinsterhood and who extols the virtues of "a good book, a hot-water bottle and some music" over sex.
Barbara is letting the top-floor flat to her loved-up school-friend Nikki and Nikki's fiancé Hamish, a Scotsman whose initially antagonistic relationship with Barbara gives way, one evening, to an enthusiastic sexual encounter. Downstairs, meanwhile, resides Gilbert, a sad-sack postman and would-be painter who's nursing a dose of obsessive love for his landlady.
Laurence Boswell's touring production strives to be one of the livelier of the recent rash of Ayckbourn revivals, with a strong emphasis on physical comedy. It's certainly crowd-pleasing—with the theatre constantly rocked by big laughs—and there are some amusing moments, though not enough to really sway any Ayckbourn sceptics in the audience.
The play's design gimmick—faithfully rendered here in Giles Cadle's three-tier set—is to present the different flats simultaneously, so that we see not only Barbara's immaculate living-room (an archetypal "man-free zone," or so Ayckbourn's programme interview informs us) but also the floor of Nicki and Hamish's upstairs bedroom and the ceiling of Gilbert's basement dwelling, too.
It's a neat conceit, yet it's hard not to wish that Ayckbourn had approached this idea with more inventiveness, as the play doesn't really capture the strangeness or the poignancy of its characters' position: living in such close proximity to each other yet caught up in so many evasions and deceits in the name of lust and love.
Instead, the characterisation and situations are too often from stock or sitcom—there's the inevitable drunken disaster of a dinner party; the apparently self-sufficient celibate who really just wants a shag; the comedy neighbour harbouring a sad romantic attachment—with the result that a feeling of fakery settles over a lot of the interactions. And, as often, Ayckbourn's dialogue lacks the wit or the rhythmic sense to make the interactions really cut deep, so the shifts between broad farce and deeper feeling are often awkward.
Still, in its quieter moments, Boswell's production does succeed in unearthing occasional, humane grace notes: Hamish tenderly placing a blanket over the sleeping Barbara, Gilbert whimpering outside a door as he makes a fool of himself yet again. And the actors all work hard, even if their strain to make the material funny is sometimes palpable.
Simon Gregor's performance as Gilbert is admirably full-on, but he arguably overdoes it vocally and physically, while the usually-subtle Claire Price also resorts to mugging as Barbara. As the betrayed Nikki, though, Natalie Imbruglia makes a creditable UK stage debut, contributing an eager, responsive and finally touching turn.
And the strongest performance comes from Edward Bennett whose economical, dry delivery as Hamish brings the production its best moments of bite.
Reviewer: Alex Ramon