This House
James Graham
Jonathan Church Productions, Headlong, National Theatre and Chichester Festival Theatre
The Lyric, Plymouth Theatre Royal
–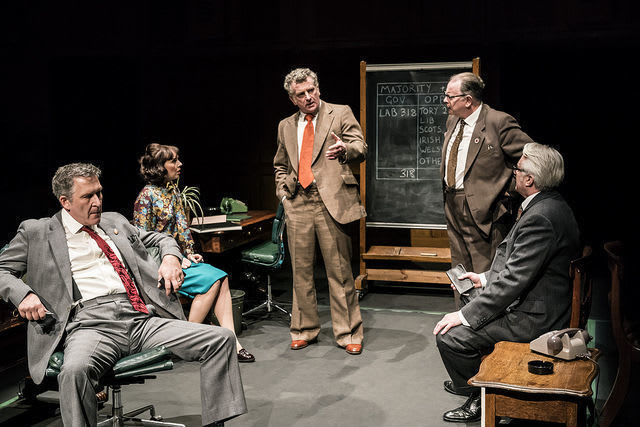 Frenetic, furious and fast, This House is a breathless episodic race through the 1974-79 precarious power play of a hung Parliament following Edward Heath's snap election.
A response to three-day weeks, energy crisis and rebelling miners, Heath's gamble backfired and James Graham's political pot pourri picks up as the parties swap Whips' Offices, inherit adjustable chairs and cross the lobby.
And so begins a very strange and turbulent year in Westminster and a rather remarkable four-year term in office resplendent with multiple deaths, mace-stealing, clothes left on the beach, deals galore and Somme-like tactics. Not to mention breastfeeding or picket line arrests or floppy-haired Heseltine or the tour-de-force thorn in everyone's side that was Audrey Wise.
Graham professes the play is inspired by real events but artistic license has been applied for dramatic effect with chronology somewhat flexible and behind-closed-doors conversations imagined.
This is a wheeling and dealing parliament where it is the odds and sods who wield the real power as majorities are oh so narrow and the promise of a new carpet or devolution might be the price of the difference. Clandestine meetings in obscure corners of the famed palace bolster armies, bets and alliances are made, promises broken and the rising body count really counts.
With kipper ties and flares aplenty, token women MPs (armed with screwdrivers to winkle out reluctant voters) and bouffant hairstyle (and that's just the men), age-old ritual and tradition are explored and explained with pairing, divisions, nodding and wrecking amendments high on the agenda.
Labour is rough, tough, pint-swigging and heavily accented while the Tories field a selection of gin-seeking old soldiers, monied businessmen and 'aristotwats'. Rivalry and respect, ripe language, safe seats and stalking horses rumble around the hallowed halls where nobody dies. And Big Ben never stops… until now.
Overlong—but goodness only knows where to cut—the frantic pace is alleviated beautifully by interludes of live music fixing moments in time through glam rock, Bowie and punk while ensemble choreographed movement breaks the rollercoaster and allows a much-needed breath.
The large cast excels throughout with quick changes and an absolute need for the Speaker to introduce the myriad MPs, but stand-out are James Gaddas as an erudite Walter Harrison, Martin Marquez brash as Bob Mellish, William Chubb as a slick and dour Humphrey Atkins and Matthew Pidgeon foppish as Jack Weatherill who is willing to make the ultimate sacrifice.
Rae Smith's set oozes gravitas and, coupled with Paule Constable's lighting, allows a seamless meander between bar, clock tower, offices, chamber and chapel with a smattering of audience members lining the green benches and the auditorium used to great effect.
Good stuff, take energy drinks.
Reviewer: Karen Bussell