This Is How We Die
Christopher Brett Bailey
Ovalhouse
–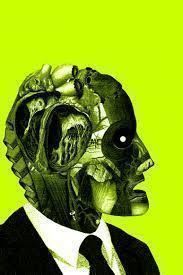 Christopher Brett Bailey's This Is How We Die is billed as, "a prime slice of surrealist trash and a blood-soaked love letter to the depraved, the depressed and the death-obsessed,"—he certainly wasn't joking.
The young writer and performer­—sat alone at a table armed with nothing but a microphone, a glass of water, a script and a killer hairdo—leads us through an exploration of what 'death' is like. It's gory. It's tough. It's uncomfortable. Yet, there's also something strangely beautiful too. Something rhythmic and lyrical.
Bailey is wonderfully poetic, maintaining his coherence despite speaking at break-neck speed. He has a unique ability to lure an audience, alternating his soft, comforting tones with all-out punk rocker-style shouting. It's an assault on the way we utilise language to define our position in the world and give our humdrum lives meaning.
There's always a sense of vulnerability in a one-person show. To talk at an audience for an hour about death with nothing to hide behind is an incredibly daunting task. However, This Is How We Die completely reverses that vulnerability; Bailey is firmly in charge and we are at his command.
It's dark, bleak stuff that takes no prisoners. Bailey has you up against the back of your seat and everything feels uncomfortable and invasive. He forces you to contemplate the inevitable and tackle it face on.
The climax is blindingly and deafeningly impressive, literally. There's a stark intensity that reverberates throughout your entire body and it doesn't let go. It is, however, a little too long. The piece works because it doesn't dither. It's sharp, punchy and doesn't hold back, so it's a shame that the finale goes on just that bit too long.
Whilst it's easy to appreciate the intelligence and skill that's gone into This Is How We Die, I didn't leave the Ovalhouse quite as affected as other audience members. Perhaps there wasn't that connection that others shared? Bailey seems too didactic at times, feeling distant if not totally inaccessible. This discord makes it sometimes difficult to be swept up in his graphic and evocative journey.
This Is How We Die is the perfect treat for those experimental, left-field types who revel in questioning the nature of existence, but for those not interested, this is pretentious surrealist tosh.
Reviewer: Sean Brooks