This Is My Family
Tim Firth
Chichester Festival Theatre
Minerva Theatre, Chichester
–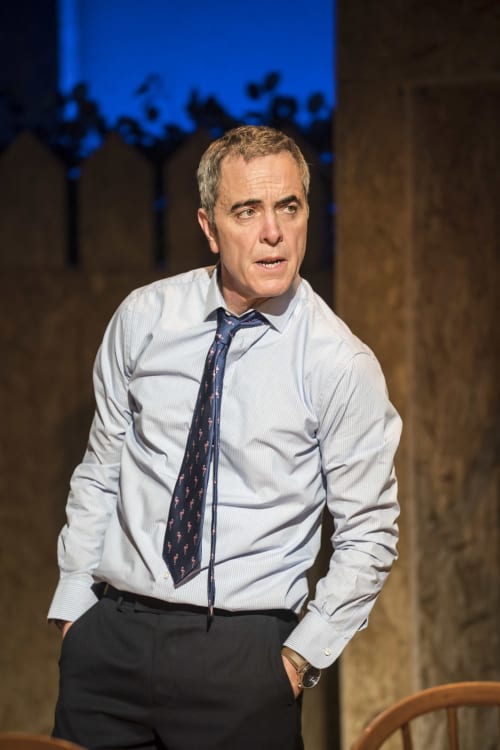 This play, music, dialogue and lyrics, all amazingly supplied by Tim Firth, premièred in 2013 at the Crucible Theatre in Sheffield where, as here, it was directed by Daniel Evans, who must have thought it would make a fitting start to the Summer Festival season, and the spontaneous and universal enthusiastic standing ovation proved how right he was.
The story is told through the eyes of Nicky, a 13-year-old girl who sees her family all going their separate ways and, after winning a competition for a family holiday anywhere in the world, tries to plan one which will bring the family together again as one loving family unit. Aunt Sian has visions of a luxury hotel on a Greek Island, mother Yvonne thinks they could have gone to Rio, teenage brother Matt is so in love that all he can think of is his latest girlfriend so he's not coming and father Steve can't even think of a holiday as he is too busy learning Arabic in case his job takes him to Abu Dhabi.
Grandmother May, sadly showing signs of oncoming dementia, also has to be included, so where will she take them that will suit them all? Would you believe a camping holiday in a tent might be the answer?
This is not a dysfunctional family by any means, simply normal characters we can all relate to with the stresses and practicalities of life taking precedence over the romance where it all began, although "does your tent have a chemical toilet?" is not the most romantic of chat-up lines. The cast are amazing, absolutely living their roles and making it all seem so very real. This could be my family, or yours, as they interact, argue, or laugh with the love almost lost beneath the surface of 'living' but always there.
Designer Richard Kent's set is an amazing construction, the three-level interior of their house (occasionally doing duty as supermarket) neatly reversing to become a forest big enough to climb and to get lost in, and the musicians, under the direction of Caroline Humphris, beautifully underscore the whole, never intrusively but just part of the action and the ambiance.
This is not a big blockbuster musical where everything stops to belt out the big number. Here the music comes from the heart and is part of the dialogue as if these words are too precious or too important to be simply spoken and have to be sung. I'm making it sound contrived but, on the contrary, it all seems perfectly natural, especially as at times they all talk / sing at the same time overlapping each other. It is, by turns, funny, intriguing, or even sad watching May who is not at all sure what is going on. Sheila Hancock plays this role perfectly with cantankerousness and confusion in equal measure.
James Nesbitt is an irresponsible but well-meaning husband, Clare Burt is the harassed, busy housewife, Scott Folan is extremely funny as the moody, rebellious Matt and Rachel Lumberg is the larger-than-life but full of life aunt Sian. However it is Nicky who is the focus of the show and a phenomenal performance from Kirsty MacLaren draws us into her world cheerfully coping with managing her family yet never verging on the precocious.
Possibly the most enjoyable show I have ever seen and a wonderful beginning to the season.
Reviewer: Sheila Connor