This is Private Property

Camden People's Theatre
Camden People's Theatre
–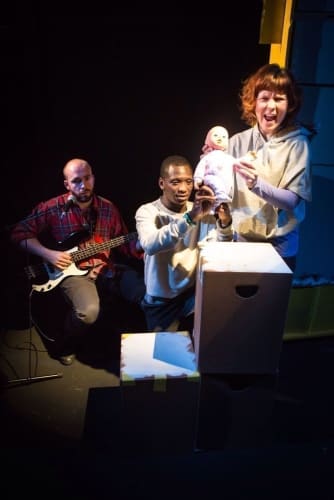 On Wednesday 13 January in Parliament, Jeremy Corbyn asked the Prime Minister David Cameron if leaseholders would, "be guaranteed homes on those rebuilt estates you are proposing?"
This was particularly important to those people who had bought homes on the hundred council estates that David Cameron intends to regenerate as many could be knocked down.
Had the Prime Minister spent that evening at the first performance of the very impressive Camden People's theatre (CPT) production of This Property is Private, he would have seen a very clear and disturbing answer to the question he had refused to answer.
In a series of amusing sketches, songs, and occasional short videos, the show traces the property experience of two people. One is the fictional Ruth Chambers (Racheal Ofori) whose story is derived from the real experience of many Londoners. The other is the mostly real experience of the billionaire property developer Christian Candy (Joe Boylan).
Ruth begins the show as a leaseholder on a Newham estate. When the estate is knocked down under a regeneration programme, she is forced to move into rented accommodation. The landlord evicts her from this because she asks him to repair a leaking roof. Homeless with a child, she is moved into emergency hostel accommodation.
As Ruth endures the miseries of the housing system, we are given snippets of information about the millions that Christian Candy makes out of redevelopments such as One Hyde Park where apartments were sold at about £7,500 a square foot.
Christian is a tax exile who has given his children the names of tax havens Cayman and Monaco. However, to keep himself happy in his visits to London, he is converting seven large houses in London's Regents Park just down the road from the CPT into a £200 million mansion which we are told will be the second largest home in the city after Buckingham Palace. Early on in the show, we are told that a member of the company is watching for him visiting the area in the hope of an interview.
The show moves quickly from satiric songs to short comedic depictions of life in dilapidated rental property, desperate people trying to 'phone landlords based in other countries and frustrated queues for emergency accommodation.
The hilarious orang-utan song to the dance of suited developers in monkey masks is inspired by Boris Johnson's comment that, "London is to billionaires what the jungles of Sumatra are to the orang-utan. It is their natural habitat."
The offer to move the homeless Ruth to Birmingham prompts her puppet baby to sing a low-key funny song about why it doesn't want to move to Birmingham.
London is described as creating a geographic doughnut pattern of living accommodation as it plans to knock down some ninety estates, moving the poor into the outer areas. Meanwhile, growing numbers of empty homes in the centre become trophy investments for people who don't even live in the country.
But the show suggests a way through the crisis. Since London's difficulties stem from it being a safe property investment opportunity then the performers propose making it less safe. It already is increasingly unsafe for the poor. Among the ideas they come up with to make it less worthwhile for such investments are protest demonstrations, rent controls and even revolution.
At this point, someone pushes into the room an actor playing a blindfolded and tied Christian Candy. Quickly, he is left alone with Ruth who releases him. She has finally been allocated council accommodation. As they face each other across the darkening stage, he offers to loan her money to buy the house which he will then buy off her. What happens next creates an iconic image of London's future that will remain with you for a long time.
This is a remarkable show that will not only make its audience laugh with its versatile inventiveness but will in very quick measure explain the housing crisis and suggest ways we can end it.
There is still time for David Cameron to see it if he really wants to answer Jeremy Corbyn's question.
Reviewer: Keith Mckenna