This Time
Devised by the company
Ockham's Razor and Turtle Key Arts
Dance City, Newcastle
–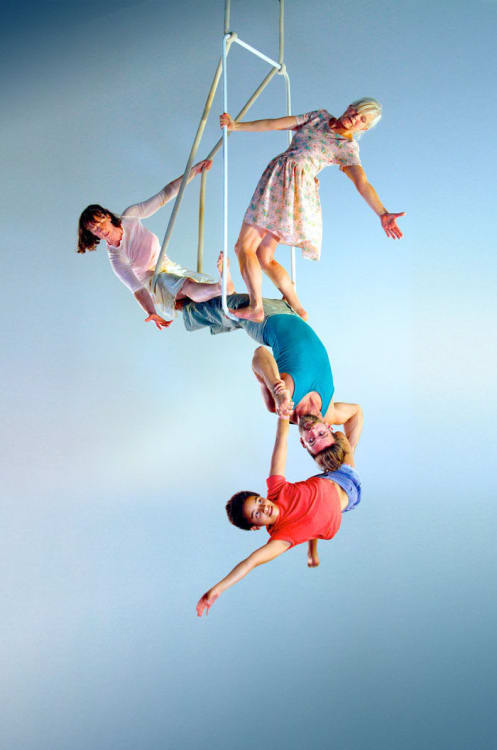 It's an amazing feeling when, after decades in this business, you come across something that is absolutely new to you. I remember the old traditional circuses of my childhood in the fifties; I've watched aerial dance in physical theatre productions and, of course, I know about the large-scale spectaculars of the likes of Cirque du Soleil, but what Ockham's Razor calls Circus Theatre is new to me.
Unlike the spectacularly performed and costumed big shows of Cirque du Soleil, Cirque Beserk and Circus of Horrors (which adds horror movie ingredients to the mix), This Time has just four performers who are dressed in ordinary, everyday clothes, trapezes which are also doors, windows, even mirrors as required, and a set which consists of a highly reflective black floor (which looks so like a lake at night that you feel that, if you were to step in it, you would sink like a stone) and, in the shadows at the back of the stage, what look like two distorting mirrors of the type which every fairground had in their Hall of Mirrors in the dim and distant past of my childhood.
The company of four consists of an adult (in their 40s) man and woman (Charlotte Mooney and Alex Harvey), an older (around 60) woman (Lee Carter) and a young girl (Faith Fahy who is, I understand, 13).
This mixture of ages is significant, lying at the heart of what This Time is about.
For most of history, Mooney and Harvey tell us in a programme note, generational integration was the norm. Not anymore, and the consequences, they feel, have damaged society. This piece, which integrates superb aerial skills with autobiographical "chats" with the audience, shows just how the generations can—and, indeed, should—support each other.
At times, each works alone on the trapeze, and at times they work as a group of two, or three or even all four together. Four people, with an age spread of more than forty years, supporting each other high above the stage, alternately being climbed on or climbing on the others, being the one who is taking the strain one moment and depending on one or more of the others the next—what better illustration can there be of how the generations can support each other, making their own contribution to the safety and, yes, the life of the others?
With music and sound by Max Reinhardt, piano composition and performance by Chioma Una and lighting by Phil Supple, this 70-minute piece is really uplifting (sorry, bad pun not intended) (if you believe that…), often amusing and always enjoyable. Their skill and courage will remain with me a long time!
Reviewer: Peter Lathan