this way, that way
Choreographers: Leila Mcmillan, juxtapose
Sadler's Wells
Sadler's Wells, Lilian Baylis Studio Theatre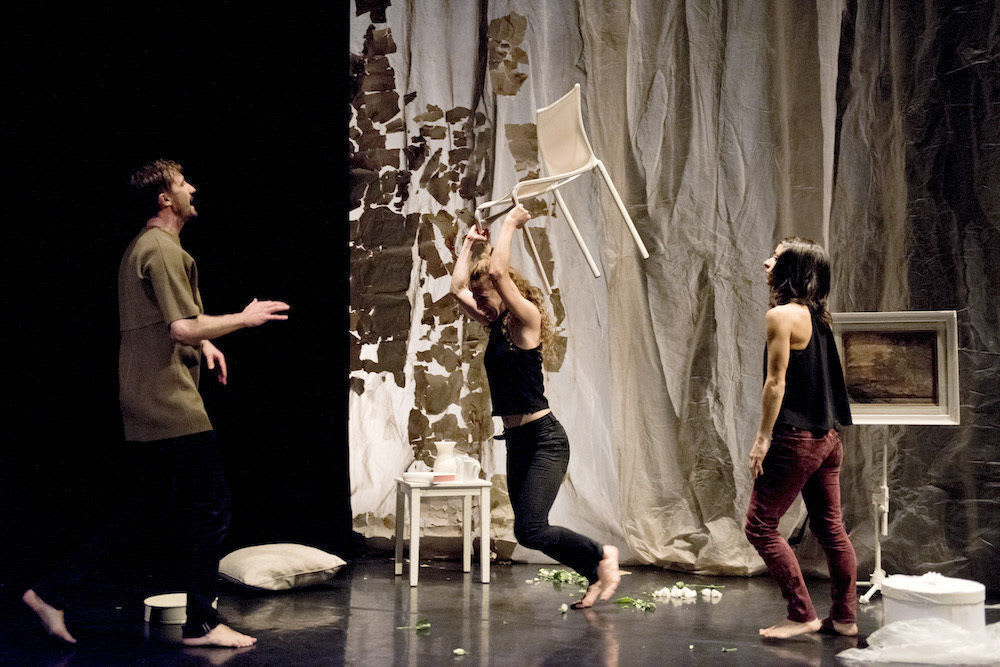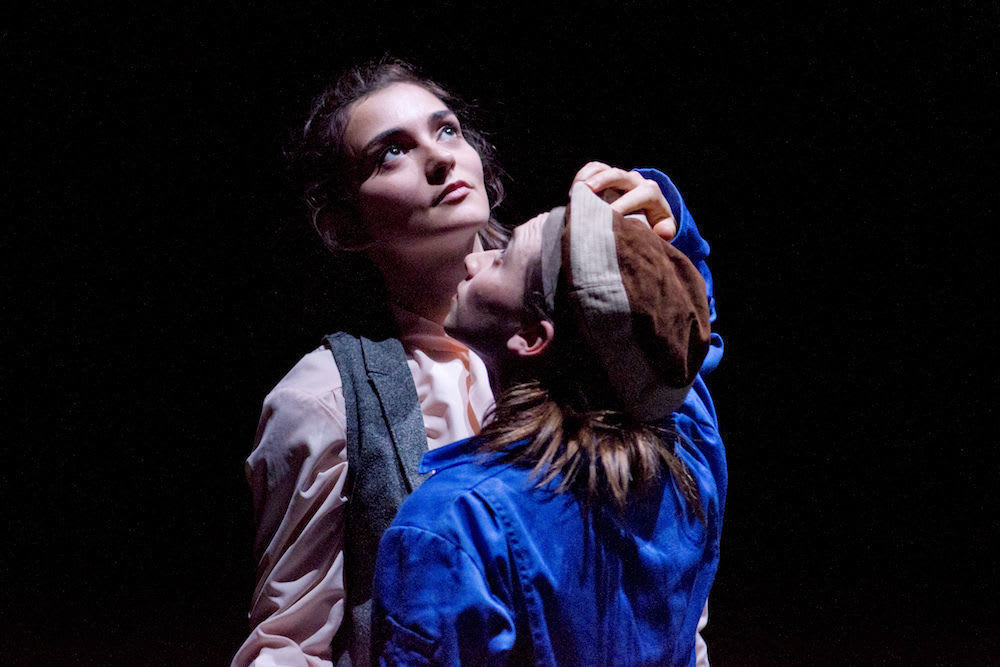 Sadler's Wells's 'Wild Card' series allows up-and-coming dance makers to curate an evening showcasing their own work alongside a piece by an artist of their own choice. Leila McMillan's this way, that way presents two works based in David Zambrano's Flying Low and Passing Through techniques, a practice that has been integral to McMillan's work over the past five years.
The programme opens with Lucid, an extract from a longer work Vicious Cycles, created by McMillan's guest artists for the evening, Jukstapoz. Against a backdrop of camouflage-print paper curtains, three dancers gather round a pile of antlers. They begin to circle them, dipping into deep pliés while grabbing onto one another's outstretched arms.
Accompanied by the low, chirping buzz of crickets, the scene feels wild and ritualistic, as if we have stumbled across a tribe deep in the outback. Their movement focuses on hand and arm gestures, wrists spiralling around each other, fingers active, in a manner resembling antlers.
The antlers become a recurring obsession in the piece. They are repeatedly in the hands of the dancers who twirl them around their bodies or hold them above their heads. They appear in shadow form, their looming shapes moving across the paper curtains and, at one point, transform some plastic sheeting into a towering beast. Yet, considering how often the antlers are seen, their significance is never really clear.
Midway, the tone switches. An uncomfortable scene between dancers Christine Gouzelis and Paul Blackman borders on images of domestic violence. Household items are thrown across the stage as their power struggle plays out to Blackman's repeated shouts of "Georgie!"
The change in tone feels at odds with Lucid's animalistic images, although there is a suggestion that these are part of a daydream, a form of escapism. Despite this declaration the connection remains more tenuous than abstract. The repetitive shouting gets overpowering—sometimes the movement could have been left to do the talking.
Despite these disconnected moments, the three dancers are strong and their movement engaging. They drop in and out of the floor with ease and even at speed they are never out of control. A solo by Blackman is especially watchable. His stiff-bodied but simultaneously agile movement gives his performance a crazed appearance—it seems a surprise to both Blackman and the audience that his body is performing such complex moves.
As an extract from a longer work, it's to an extent understandable that Lucid doesn't quite make sense. It's capably danced and filled with intriguing images, but while its abstractness is enjoyable this doesn't manage to disguise the detachment between its ideas.
McMillan's Family Portrait has more coherence, if less scope to cover. A structured improvisation based around a family portrait from the 1920s, her seven dancers take on the family roles depicted in the photograph. Although their individual characters are not acutely defined, their on-stage relationships are natural and engaging.
Beneath the soft glow emanating from a number of low-hanging lampshades, they pull each other around the stage, maintaining contact through gentle touches and simple connections; a hand or foot placed carefully on someone's thigh, a chin upon a hip… anything goes. The beauty of this work is that there seem to be no strict rules or limitations.
The dancers respond closely to the on-stage musician and, as his accompaniment takes on a lively, joyful tone, their interactions likewise become more playful—and increasingly odd. The group breaks apart, splitting into duets trios and solos seemingly as the mood takes them.
As they indulge their whims and play games with each other, the work descends into organised chaos. Items of clothing become fascinating toys. Faith Prendergast, the smallest dancer of the group, is swung in a shirt, dancers are dragged along surfing on jackets, clothes are pulled off and hats piled on. It's an example of what dancers can get up to when left, at least to an extent, to their own devices.
Family Portrait is a charming and cheerful work and it is largely down to the imaginative potential of its dancers that it succeeds. Sometimes there is almost too much to watch and, as time ticks on, there is a danger that the entertainment value of this piece could plateau, but on this occasion it works, ending just before the idea wears itself out.
The result is a haphazard but quietly brilliant piece.
Reviewer: Rachel Elderkin