This World Here… Nomhlaba Le
Created by the company: Sanele Mzimela, Phelelani Mzimela, Velaphi Mthimkulu, Samu Khumalo, Sam Bell, Alice Blundell and Stan Hodgson
Curious Monkey and NADO SA
Alphabetti Theatre, Newcastle
–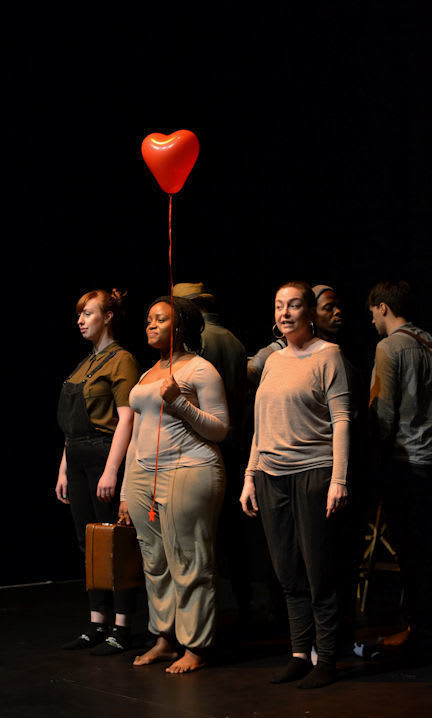 From South Africa, three men and one woman; from the UK, two women and one man.
What do they have in common?
They're all actors, singers, musicians, performers—a bit of all those—but they also all come from Newcastle. Two different Newcastles, of course: Newcastle in KwaZulu-Natal and Newcastle-upon-Tyne.
They've come together in three international exchanges, during which they created This World Here… Nomhlaba Le, a piece of theatre about selfhood, home, and what happens when you travel thousands of miles to meet a new culture.
Seven people, seven different characters, seven different stories, seven different beliefs, all presented through direct addressing of the audience, dialogue, music and physical theatre.
The houselights go down and the cast enter, carrying between them a suitcase, a drum, a violin, a balloon and a guitar, and singing a traditional South African song. They stand or sit facing us and each speaks to the audience in turn, as if into a microphone—a click of the fingers, the clenched hand below the chin—telling us about themselves. One of the Brits—Alice Blundell—begins to sing the Geordie song The Water of Tyne, which is picked up by the rest and gradually morphs into a South African singing style whilst remaining recognisably itself.
To follow those seven different people, all of whom are sharing their experiences both at home and a continent or two away, should be, at the very least, rather confusing but they are such distinct and very real characters and the piece is so well constructed that there is no confusion. We not only follow every story but are drawn in to respond to each one emotionally.
Does it teach us anything? Yes, it shows us how diverse and yet alike people are, how we all have similar problems relating to our self-image, and that we can learn so much from others, no matter how different we may start by believing we are.
Director Amy Golding deftly weaves together the different individual strands and, from this fusion of African and British experiences, creates a piece which is revelatory and ultimately joyous.
Reviewer: Peter Lathan