This Is How It Goes
Neil La Bute
Rooster Productions
King's Head Theatre
(2010)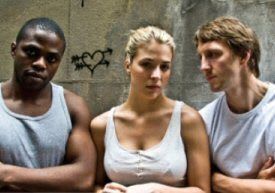 This is a beautifully played revival of La Bute's 2005 play (seen that year at the Donmar Warehouse) about a triangular relationship between three old schoolmates in a small town in the American mid-west.
Tom Greaves plays the unnamed 'Man' who tells the story with a number of different variations, leaving the audience to chose between them - or perhaps not to believe any. He has been away at law school and then practicing as a lawyer but now has given up law and returned after an absence of a dozen years to become a writer. Once the school's fat boy he is now slimmed down but still recognizable when he bumps into attractive Belinda, whom he once (just once) dated.
Belinda (Gemma Atkinson) is now the trophy white wife of former school runner Cody (Okezie Morro), the only black kid for miles around, now owner of his family's chain of retail stores. They have an apartment above their garage and 'Man' becomes their tenant. 'They are a great looking couple,' Man tells us, 'if you are far enough away not to hear what they are saying to each other.'
Cody is manipulative and by his own admission 'don't do nothing for fun.' Is he a sadistic bully with a big chip on his shoulder or a gentle loving husband? Did Belinda marry him as her childhood sweetheart or was it, as she at one point suggests, 'for his big black cock'? Charming though Atkinson makes her, she isn't exactly the perfect partner. 'I only spend your money,' she tells Cody. 'to piss you off.'
La Bute is taking a look at what happens in a marriage when the romantic flush has faded. Was Cody always like this or is it because of racist set-backs? Why does Belinda feel that 'What I saw in him is gone'? The play brings us face to face with inbred racism and suggests an inherent need on Cody's part to play out the role of the ill-used black and explores the duplicity people will employ to get the girl they want as layers of possibility are peeled away to reveal what, possibly, is the truth. From the beginning Man has warned us 'I might be an unreliable narrator.'
Director Seb Billings nicely establishes the theatricality of the piece in an opening duologue when both characters face the audience side by side, although the conversation is taking place across a distance, and 'Man' not only introduces his different version of the story before they are enacted but sets up the furniture and props as his own stage manager. The playing, however, is very naturalistic and all three seem, to me at least, convincingly American; Greaves, in particular, is American even in his gestures.
Designer Rhiannon Newman Brown provides a warm but neutral setting of a simple dado topped by a fresco of blue sky and clouds with a sofa, gingham-clothed table and a barbecue marking different location across the width of the stage and Aaron J Dootson lights it to feel like warm outdoors when needed, though there are moments when the actors don't quite find their spots and their faces go unlit. Such petty quibbles and the youth of the cast aside (Man, in particular, seems younger than the thirty he must be if it is at least twelve years since graduation), this is beautifully performed production of a play that plays games with truth.
Run ends 3rd October 2010
Reviewer: Howard Loxton