this is where we got to when you came in
non zero one and Elinor Cook
Bush Theatre
(2011)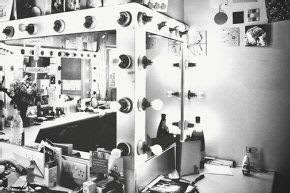 This is a last chance to pay a visit to the Bush Theatre's old home above the pub on Shepherd's Bush Green where it was originally founded by Brian McDermott in 1972. Is it really nearly forty years that audiences have been climbing up the stairs to the single room black box with its steeply racked tiers of seats all almost within touching distance of the actors to witness those "infinite riches" and very rare disasters "in a tiny room".
This last show is not a play in the conventional sense, nor is it the Bush's own production; they have invited in a group who, in their own description, "make interactive performances using popular technologies across disciplines." I know that sounds like the academicians taking over show business but don't let the terminology put you off. It simply means headphones and an MP3 player and this is a promenade performance that takes you on a wander through the offices, lavatories, dressing rooms and stairways of the theatre, free to poke you nose into files and uncover secrets as you share the experiences and memories of those who worked here.
Every half hour an audience of four gathers on the street outside the theatre to begin their exploration. Once let through the door my group began to make our way up the stairs before a voice behind us drew us back down again. It is Justin Salinger, a disembodied but very direct and intimate voice on speakers, or through the headphones that you pick up later, a guide and informant who accompanies you through the building, sometimes sending you together, sometimes separately into different places.
This is a carefully constructed piece that takes youto places clearly getting packed up and ready to move and others - the dressing room and technician's corner - still seemingly in active use, until you reach a point when removal is all too evident and you are left with only memories. But the whole show is memories; memories shared and sometimes resurrected from those who ran the theatre or worked in it: actors, directors, technicians - you'll probably recognize some well known voices.
In the director's office, where you answer a telephone to take you onwards, a room that was shared by six other members of staff plus being used as a dressing room, you can dig through Josie Rourke's correspondence, fish out scripts with director's notes. Listening to personal memories and stories, you are asked to look out on the busy traffic of Shepherd's Bush Green down to what used to be the Gentleman's toilet, a "cottage" where, according to director Simon Stokes, you could cast a play from the actors you recognized going in and out.
Toilets are a feature of this show. At first you had to go down to the pub to find one; later you queued along with the public listening cringing to their comments on your work. Now on this final visit you get a moment to meditate and make your own contribution, a comment or a memory you want to share.
There are episodes to help you experience just how crowded working here could be, to offer you the experience of that moment of relaxation looking at the sunset or having a last fag before going down to face an audience, the moment of tension or expectation before going out onto the stage, the proximity of the audience
While Elinor Cook and non zero one have have put great emphasis on how cramped and uncomfortable conditions were, I found myself, backstage here for the first time, bemused at how good conditions were. Crowded yes, but a well lit dressing room with proper mirrors and ledge to put your stuff on, even a shower; much better than some West End dressing rooms I've known, let alone fringe venues. But what is there today is comparatively recent. There have been many changes: you are reminded that the box office used to be that cupboard under the stairs and in the theatre itself the dismantled modular seating replaced something more precipitous and much less comfortable.
Each of the quartet who start this journey together will be offered different experiences. One of my fellows got to share the experience of a writer faced with a blank piece of paper, I found myself privy to a leaking privy, though baffled that so much was made of it! Both Health and Safety and actor's expectations have changed a lot in forty years; rightly for the most part but that's all part of the history.
Only at the end are you reminded of the tremendous body of work that has been produced in this vibrant little theatre but the record of its achievements is already in the history books. What this show tries to share is the experience of working there. For an hour you can discover what it was like. It can't be complete of course, there aren't other company members there to love or hate, directors yelling at you or being supportive, and no audience. This is, as it were, the echo of an experience but these are memories worth sharing and none zero one have succeeded in giving it a poetic resonance.
"this is where we got to when you came in" runs at the (Old) Bush Theatre until 30th September 2011.
Reviewer: Howard Loxton