This Other City
Daragh Carville
Tinderbox Theatre Company
Baby Grand, Grand Opera House, Belfast
(2009)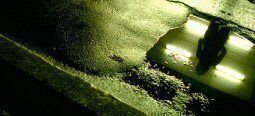 While each day's headlines bring more detail of the malaise of corruption, the time has surely come for a pertinent revival of the 'time plays' of the prolific J B Priestley, the writer whose theatrical parables so surgically dissected the ethical hypocrisies, fiscal and sexual, of the 1940s.
So, over six decades later, the county Armagh born playwright Daragh Carville, who has spent some of his years in provincial academia's drama divisions, won't be surprised if audiences at his newest work, This Other City, left Belfast's Baby Grand Theatre reminiscing about touring revivals of the great social commentator's seminal An Inspector Calls (staged not to long ago in this tiny theatre's big sister, Belfast's Grand Opera House), rather than assessing his own bleakly diverting analysis of post-Troubles Ulster.
In Priestley's play the death of an impoverished young woman leads to an aspirational family's dissolution. In Carville's work, property developer Patrick's world falls scarily asunder following his brutal encounter in the city's Europa Hotel with Maria, a young and doomed Moldovan escort girl, who, under stress, calls Gemma, his wife, from his mobile 'phone.
Much of what follows is conducted in the language and plotting of a routine television policier. Maria (the excellent Cristina Catalina), had dreamt the emigrants' dream of becoming an American TV star. But her theft of Patrick's wallet leads to her being dropped by Bull (a charming and unwaveringly menacing Michael Liebmann) from his high-end call girl crew, sold down league as sex-meat to Ulster's border thugs. It won't be long, we realise too soon, before Bull's heavyweight paramilitary masters begin setting their blackmailing sights on Patrick's property portfolio.
The usually dangerously magnetic Maria Connolly, who plays beauty parlour franchiser Gemma, is confined by Carville's decision to limit her language to the clichés of celebrity magazines. That excellent character actor Gordon Fulton, as Ben, Gemma's father, is given little to do bar bulge his eyes in anger as he fears Patrick's disgrace will bring down their empire of possibly dodgy apartments which stand empty on the notoriously shifting banks of Belfast's river Lagan, an area whose new Titanic Quarter purports, in real life, to herald the 21st century into to this once equally corrupt redbrick Victorian City.
While Samantha Heaney, revealed so recently as star material in Abbie Spallen's Pump Girl, makes more that the lines written for Patrick's and Gemma's daughter Orla may deserve, the author's introduction of her FacbBook blog is little more that an awkward eye-catching sop to modernity.
Miche Doherty's Patrick - and his improbably budget suit - create even more of a problem. Beloved by Irish audiences as the ideal Regency fop, his fate as a boring, internet porn addicted salaryman is, frankly, rather less than gripping
Carville's first work, Language Roulette, also produced by Tinderbox, introduced an interesting voice from the streets. But This Other City, despite the workmanlike in-the-round direction from Michael Duke, is, at two and a quarter hours, just too long, too derivative and too worthy, to enlarge his reputation.
Touring schedule: Tue 19th May, Waterside Theatre, Londonderry; Thu 21st May, Iontas Theatre, Castleblayney; Fri 22nd May, The Market Place, Armagh; Sat 23rd May, Riverside Theatre, Coleraine; Tue 26th May, Garage Theatre, Monaghan; Thu 28th May, The Alley Theatre, Strabane; Fri 29th May, Sean Hollywood Arts Centre, Newry and Sat 30th May, Island Arts Centre, Lisburn.
Reviewer: Ian Hill