Thon Man Molière
Liz Lochhead
Lyceum Theatre Company
Lyceum Theatre, Edinburgh
–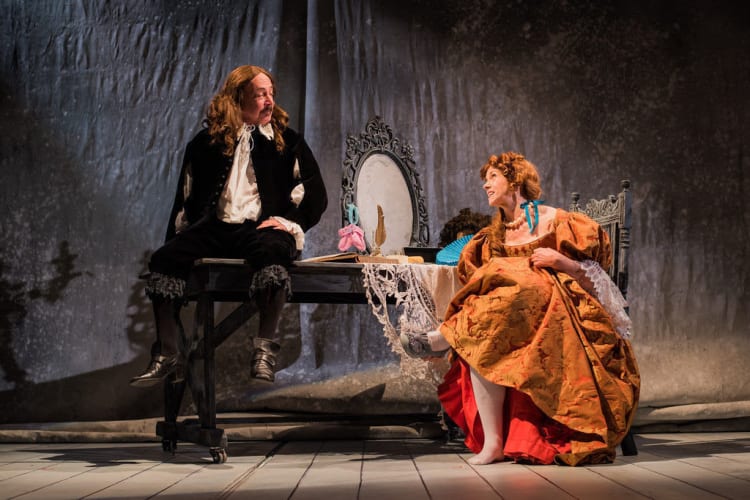 Liz Lochhead, a keen translator of Molière, turns the focus on the playwright himself in this piece which combines the comedy and wit of a Molière play with the events of his offstage life.
In translating Molière in the past, Lochhead has made use of the Scots tongue for her plays. This is a tradition going back at least as far as Robert Kemp's L'Ecole des Femmes as Let Wives Tak Tent in 1948 at the Gateway, Edinburgh, so it is the natural choice of language for this biographical piece.
The play's action centres mainly around Molière's attempts to get Tartuffe performed, but Lochhead manages deftly to fit many of his other works in, even if just in passing.
Molière (Jimmy Chisholm) and Madeleine Béjart (Siobhan Redmond) form the central comic double act to the piece, Béjart being the person who caused Molière to run off and join the theatre, though the two never married.
At times, the play, like my review just now, does veer into exposition, but mostly it stays light and doesn't get too bogged down, although the ending is perhaps a little guilty of discussing the facts of the end of Molière's life.
The play is firmly ensconced in the theatre, with loud costumes, many curtains coming down, cartwheeling cast and baroque music.
There's plenty of fun to be had with over-the-top wigs and crocheted long johns, so like the language the clothes aren't too firmly tied to the 17th century.
There is some nice choreography for the cast with Michel Baron (James Anthony Pearson) in particular showing off his athleticism. All the cast though get some chances to show off their exuberant side with several silent scenes.
The play is great at highlighting the humour of what happens offstage, with Therese Du Parc (Nicola Roy) and her husband Gros-René Du Parc (Steven McNicoll) both trying it on with the new boy Michel.
However, the continuing plot of getting Tartuffe staged, after it had been banned, didn't seem to come to a real climax.
The play does deal with Molière's marriage to Menou (Sarah Miele) who was not only young enough to be his daughter but, as the daughter of his lover, was believed by some to actually be his daughter. This is done sensitively and the portrayal of Menou is not reduced to an innocent girl.
The play does well to pack in so much of Molière's life with such great use of language and theatricality. A great way to learn about the great dramatist.
Reviewer: Seth Ewin